The new comics publisher Ablaze announced this week that it will publish comics and graphic novels based on Robert E. Howard's Conan the Barbarian stories, although the publisher is careful to refer to the character as "the Cimmerian."
The first issue,
The Cimmerian: Queen of the Black Coast
#1, will be solicited in the August 2019
Previews
catalog and has a release date of October 9, 2019. The comic is scripted by Jean-David Morvan, with art by Pierre Alary and colors by Sedyas. The cover artists for the first issue will be Jason Metcalf, Mirka Andolfo, Ed Benes, and Pierre Alary.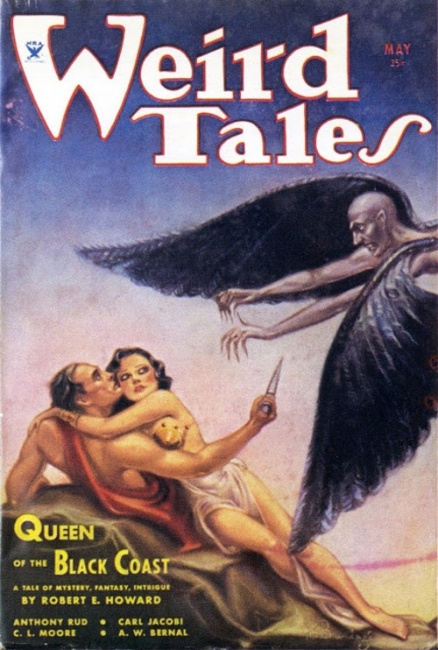 Ablaze's Cimmerian comics are based on Howard's original stories as they appeared in the pulp magazine
Weird Tales
in the 1930s. After Howard's death, in 1936, some of the stories were edited and rewritten, but the Ablaze comics are faithful to the early versions; hence the claim, "These stories portray the true Conan… unrestrained, violent, and sexual… just as Robert E. Howard intended!"
In 2018, Marvel Comics acquired the rights to publish Conan the Barbarian comics from Conan Properties International. Nonetheless, all of Howard's works are in the public domain outside the U.S., and some are in the public domain within the U.S. as well (at least according to Ablaze). Ablaze plans to release only adaptations of those stories that are in the public domain in the U.S.
The Ablaze comics appear to be a repackaging of graphic albums from the French publisher Glénat, which began publishing Conan comics under the title
The Cimmerian
last year. The series editors are Morvan and Patrice Louinet, and according to an interview with Louinet at the French site
9e Art
, Glenat plans to publish 13 or 14 Cimmerian graphic novels altogether. This is a major project for the publisher, which greenlit the series in 2010, although the first album did not appear until 2018. Louinet, an expert on Robert E. Howard and the author of
The Robert E. Howard Guide,
said that his job is not so much to tell the adapters what to do as to tell them what not to do; his intention is to stay true to Howard's original stories.
Ablaze Publishing is a new publisher (see "
Ambitious New Comic Publisher Launches with Adlard BD
") helmed by Rich Young (formerly of Dynamite Entertainment, Dark Horse Comics, Dreamwave, and Dabel Bros.) that has announced one other property:
Vampire State Building,
written by Ange and Patrick Renault with art by Charlie Adlard (artist for
The Walking Dead
) and originally published in France.
Click Gallery below for full-size cover and six interior pages!