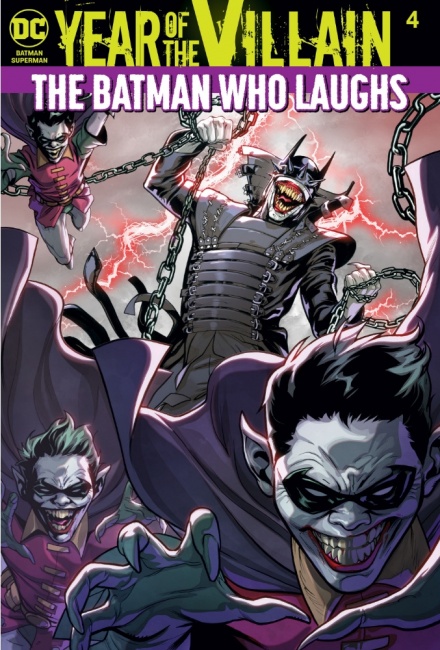 DC Comics has revealed early details on a series of one-shots and tie-in comics that will expand upon the events in the current
Batman/Superman
series. Six heroes will be revealed to have been infected by The Batman Who Laughs, and their buried frustrations and pent-up anger will boil to the surface with dangerous results.
The Infected: King Shazam!
#1 and
The Infected: Scarab
#1, are two new one-shots releasing in November.
King Shazam!,
due out November 6, will be written by Sina Grace, with art by Joe Bennett.
Scarab,
due out November 20, is written by Dennis Hallum, with art by Freddie E. Williams II. Artists David Marquez and Dean White provide covers for both issues.
Between the two one-shots, on November 13,
Hawkman
#18 and
Supergirl
#36 will tie-in to
The Infected
.
Hawkman
will be written by Robert Venditti, with art by Pat Olliffe and Tom Palmer and cover by Tyler Kirkham.
Supergirl
will be written by Marc Andreyko, with art by Eduardo Pansica and Julio Ferreira and cover by Dan Mora.
Batman/Superman
#4, written by Joshua Williamson, with art by David Marquez, releases November 27. The issue will feature an acetate cover by Emanuela Lupacchino. All six of the Infected will be revealed in this issue as Batman and Superman don't know who's been infected, who has turned or who to trust. The final two Infected superheroes will appear in one-shots in December.
First appearing in the
Dark Nights: Metal
event, The Batman Who Laughs has spawned his own miniseries and become a part of the
Batman Miniatures Game
(see "
Scott Snyder Writing 'The Batman Who Laughs' Miniseries
").
Click Gallery below for full sized cover images.