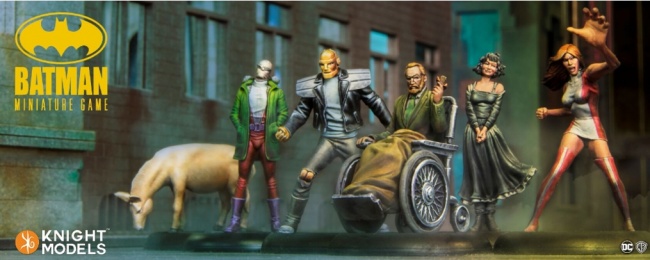 Knight Models will release the
Bat-Box
Doom Patrol
for the
Batman Miniatures Game
this month.
The team box will include everything a player will need to bring the Doom Patrol to the streets of Gotham. Each box includes 5 unpainted resin miniatures featuring The Chief, Robotman, Elasti-Girl, Negative Man, and Crazy Jane. Along with the resin miniatures, the set will include a special Albino Donkey Objective Marker and 6 unique Methacrylate markers. The box will also include the character cards for the miniatures, equipment cards, quickstart rules, and special Doom Patrol scenario and Team Rules. The Bat-Box Doom Patrol has a MSRP of $96.00
Knight Models announced new sets for the DC Universe Miniatures Game for release this month as well (see "Knight Models Enters a Parallel Universe with 'Crime Syndicate'"). Earlier this year, Knight Models released a two-player starter box based on The Dark Knight for two players (see "'The Dark Knight Rises' For 'Batman Miniature Game'").
Click Gallery below for miniatures from Doom Patrol!