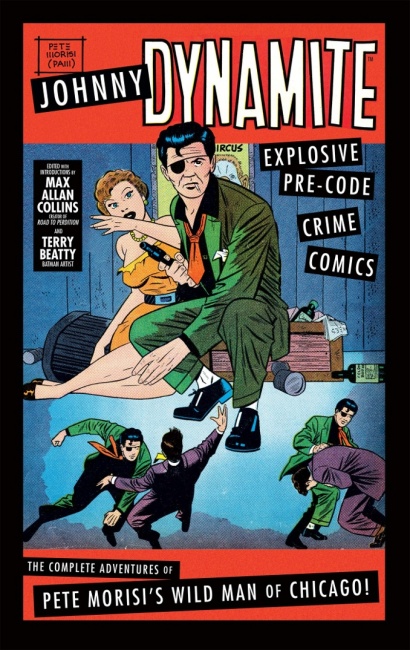 IDW Publishing will release a Yoe Books collection of the comics featuring the classic two-fisted private eye, Johnny Dynamite. Written by Ken Fitch with art and covers by Pete Morisi (see "
Peter Cannon Thunderbolt Returns
"), this collection will be edited by Max Allan Collins and Terry Beatty and contain the complete original series first published by Comic Media in 1953's
Dynamite
#3-9, and in
Johnny Dynamite
#10-12 and
Foreign Intrigues
#13-15 from Charlton Comics. Included with the reprinted adventures is a Collins/Beatty
Johnny Dynamite
story as a bonus. The 184-page hardcover collection will be available in March, MSRP $29.99.
Johnny Dynamite was a hard-boiled PI in the mold of Mickey Spillane's
Mike Hammer
(Spillane had also served his time in comics, with the
Hammer
character originally slated to appear in the medium, see "
Mike Hammer Private Eye Comes to Comics
"). Set in 1950s Chicago,
Dynamite
drank too much, smoked too much, and just cared way too much, which got him into trouble every time. These pre-code crime comics are a two-fisted time capsule of the hard-bitten
Mike Hammer
era.
The character was acquired by fan and writer Max Allan Collins from Charlton in 1987, and reprinted stories appeared in Collins' and Terry Beatty's
Ms. Tree
(see "
Titan to Collect Classic Crime Comic Ms Tree
"). Collins and Beatty later created a four-issue limited series using the character in
Johnny Dynamite,
published by Dark Horse Comics in 1994 and previously collected. Both have written introductions and appreciations of Fitch, Morisi and the
Dynamite
series for this volume.