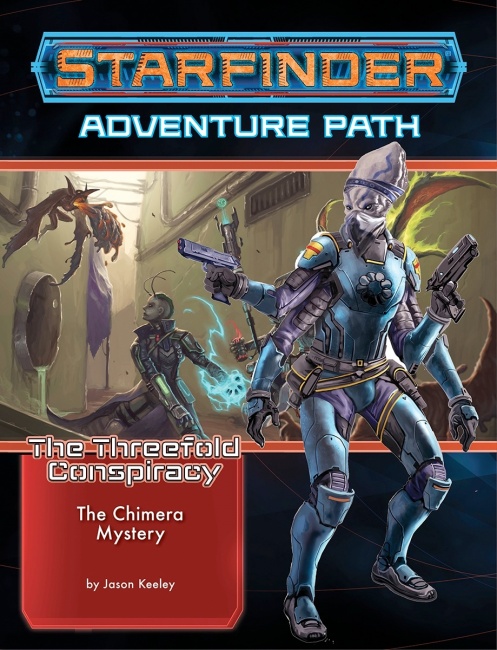 In February, Paizo Inc. will begin
The Threefold Conspiracy
, a six-part
Adventure Path
for its popular science fiction role playing game
Starfinder
.
The Threefold Conspiracy begins with The Chimera Mystery, which opens with the disappearance of the security officer of the luxury space liner Chimera. The heroes are enlisted to unravel the mystery, which includes murder, unexplained mechanical malfunctions, and layers of secrecy. Solving the whodunit reveals an even greater conspiracy, explored in later installments of the campaign.
The Chimera Mystery is the first chapter in the six-part campaign, with additional chapters releasing every month, starting with Flight of the Sleepers in March, Deceivers' Moon in April, and The Hollow Cabal in May. Each part of the campaign is presented as a 64-page booklet, with campaign background, new rules, new alien races and monsters, new planets and starships, and an adventure. Each book is MSRP $22.99.
Click Gallery below to see the covers for the first four installments.
Starfinder has been a solid hit for Paizo, earning the #2 slot on ICv2's list of top-selling roleplaying games last spring (see "Top 5 Roleplaying Games--Spring 2019"). In November, the company will release the Starfinder: Character Operations Manual (see "Paizo Reveals New 'Starfinder' Rulebook").