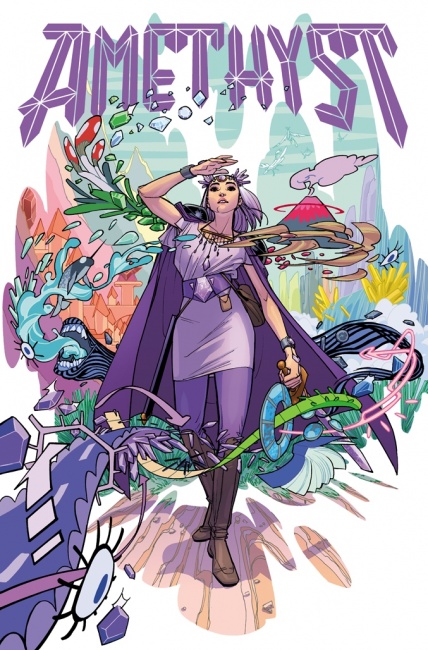 Amethyst
is coming back, and Amy Reeder will be the writer, artist, and colorist for the new series, which will launch in February 2020.
DC made the announcement at its Wonder Comics panel at NYCC. The new Amethyst comic will be part of the Wonder Comics line, alongside Young Justice, Naomi, Dial H for Hero, and Wonder Twins. The imprint is curated by Brian Michael Bendis, who also writes Young Justice.
Amethyst first appeared in 1983 in a 12-issue series, Amethyst: Princess of Gemworld, by writers Dan Mishkin and Gary Cohn and artist Ernie Colon. She later had an ongoing series and has popped up in other comics over the years, including as the lead character in the New 52 series Sword of Sorcery. She recently reappeared again in Young Justice.
The new Amethyst series whisks teenager Amy Winston back to Gemworld, where she finds that the inhabitants who were loyal to the House of Amethyst have vanished and the country is in ruins. She must go on a dangerous quest to find out what happened and to restore the House of Amethyst.
Reeder was the artist for Madame Xanadu and Batwoman, co-writer (with Brandon Montclare) of Moon Girl and Devil Dinosaur, and she and Montclare also co-created Rocket Girl.
See below Gallery for full-size images!