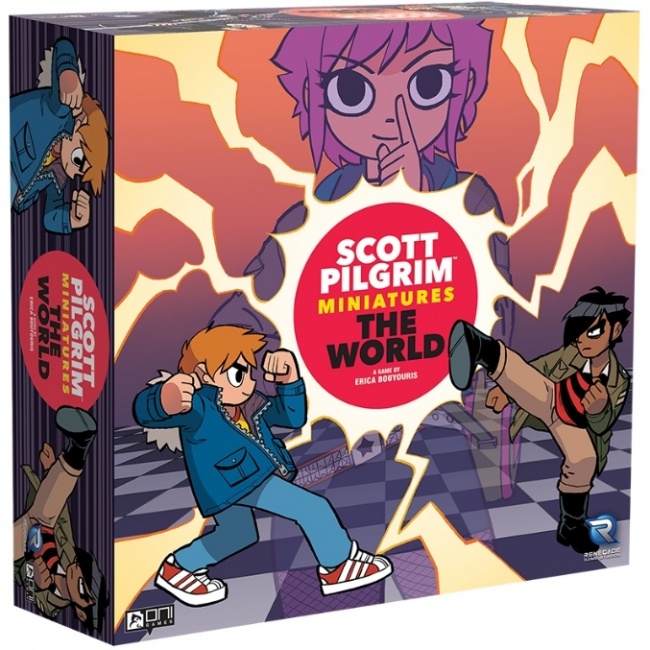 Renegade Game Studios will release the
Scott Pilgrim Miniatures the World
board game, based on the series of Bryan Lee O'Malley graphic novels published by Oni Press, to consumer and retail Kickstarter backers, and the trade, in 2020. The game is currently on Kickstarter and has raised over $100,000 from more than 700 backers to date.
Scott Pilgrim Miniatures the World, designed by Erica Bouyouris, puts a team of players in the role of Scott Pilgrim and his friends as they battle through the League of Evil Exes. The game plays on gridded pop-up venue boards, representing the various locations where Scott faced each ex in Scott Pilgrim vs the World.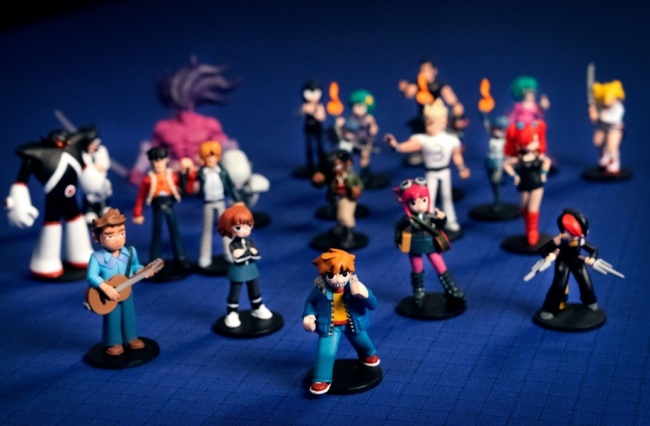 The core game will include detailed miniatures representing Scott Pilgrim, Ramona Flowers, Kim Pin, Stephen Stills, Knives Chau, Matthew Patel, and three demon Hipster Chicks.
Along with the miniatures, the core box will include character cards for each miniature, Rockit pop-up venue board, 10 3D throwable objects, 24 item cards, 20 booster tokens, 8 dice, dice tracker and trophy token, 7 XP star tokens, and 18 tracking cubes. The game will ship in both painted and unpainted editions.
Scott Pilgrim Miniatures the World is for 2 to 4 players, ages 14 and up, and plays in 60 minutes. The painted edition will retail for $80, while the unpainted edition will retail for $60. The game is expected to be available through distribution in July 2020.
Along with the base game, two miniatures-only collections will be made available. The Band vs. Matthew Patel Pre-Painted Miniatures contains all nine, fully painted miniatures from the base game and will retail for $49. The Complete Collector's Pre-Painted Miniatures Set will feature all 24 fully painted miniatures from the base game and the Kickstarter exclusive-expansions. Both sets will ship in windowed displays and be available in July.
Renegade Games is offering a special retailers-only pledge level for stores wanting to have access to the Kickstarter-exclusive editions of the game, as well as the exclusive expansions featuring the other exes.
Kickstarter backers, including retailers, will be shipped in June; the painted and unpainted editions of the base game will be released to the trade in July. Retail prices for the trade release have not been finalized, but will likely be higher than the Kickstarter retail prices ($80 and $60, respectively).
Oni Press celebrated the 15th anniversary of Scott Pilgrim's Precious Little Life with three new color collections earlier this year (see "'Scott Pilgrim' Gets Makeover for 15th Anniversary Editions").
Click the Gallery below to see full-size images of minis and other components!