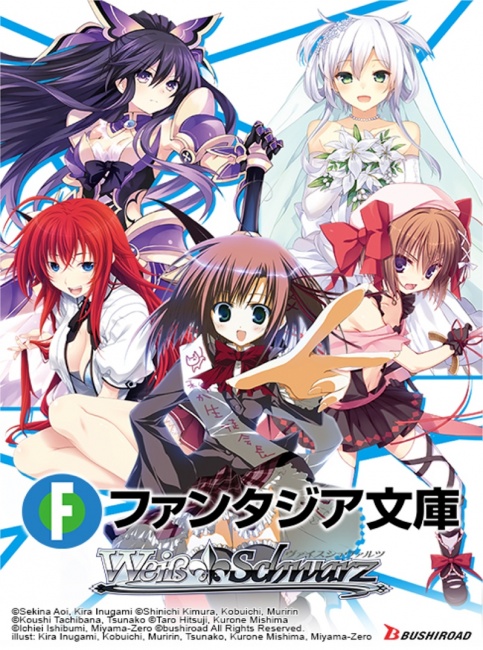 Characters from a number of light novels will be brought together in the
Fujimi Fantasia Bunko
Trial Deck
and
Booster Pack
sets for Bushiroad's
Weiss Schwarz
Trading Card Game
, releasing April 17.
Inspired by the Fujimi Fantasia Bunko catalog, the Fujimi Fantasia Bunko set features characters from 18 different light novel series from that publisher, including Is This a Zombie?, Student Council's Discretion, Highschool DxD, Date A Live, Akashic Records of Bastard Magic Instructor, Full Metal Panic!, Slayers, and others. The new cards will be available in both a Trial Deck and Booster Packs.
The Fujimi Fantasia Bunko Trial Deck will be a 50 card pre-constructed deck with a total of 20 different card types, including 2 "shiny" cards in every deck and 7 possible parallel cards randomly inserted in some decks. Two types of signature cards (featuring voice actors Mariko Honda and Marina Inoue) and three varieties of specially embossed rare cards will also be randomly inserted. Trial Decks will be available in six-deck display boxes.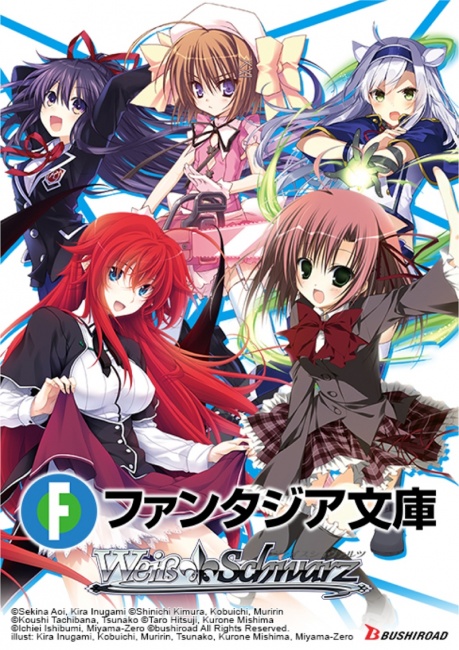 The rest of the cards will be available in eight-card booster packs, with a total of 105 card types and 43 parallel cards. Signature cards featuring authors from some of the novel series, including Shinichi Kimura (
Is This a Zombie?
), Sekina Aoi (
Student Council's Discretion
), Koushi Tachibana (
Date A Live
), Ichiei Ishibumi (
Highschool DxD
), and Taro Hitsuji (
Akashic Records of Bastard Magic Instructor
) and signature cards featuring voice cast members Iori Nomizu, Asami Sanada, Azumi Asakura, and Akane Fujita will be randomly inserted in some packs.
Booster packs will be sold in 20-pack displays, each with one of eight possible exclusive PR card display toppers. Each 16-display carton will also have one of five possible FBR rarity cards included as a carton topper, which are the same as other FBR cards in the set.
Fujimi Fantasia Bunko will follow the March release of the Jojo's Bizarre Adventure expansion (see "'Weiss Schwarz' Goes on 'Jojo's Bizarre Adventure'").