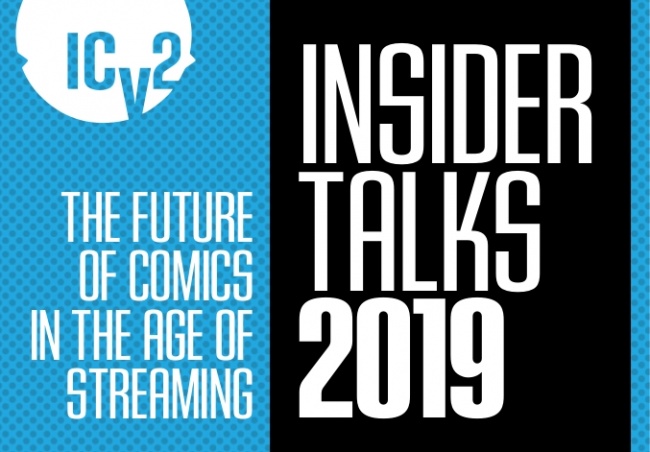 Kristen McLean, Executive Director of Business Development at NPD BookScan, studies retail book sales, but she also spends a lot of time thinking about how properties translate across platforms.
At the ICv2 Insider Sessions last October, she discussed her latest research and presented some concrete examples of how graphic novels, anime, TV shows, games, and podcasts all interact with one another.
NPD BookScan collects point-of-sale data from retail bookstores, mass market stores (such as Target and WalMart), and online retailers such as Amazon. They don't cover independent comic shops, but that will change this year when they begin including data from ComicHub.
When it comes to the big picture, McLean sees two trends. One is that big companies get bigger. "We are seeing that at the company level: Disney is becoming both platform and a content owner," McLean said. "We are seeing Walmart getting into platforming content, we are seeing Netflix getting into content creation, so all the big players are just getting bigger, and the movies and the tentpole strategies are getting bigger."
Conversely, the other trend she sees is the increasing importance of niche properties. McLean quoted Andy Forssell, SVP of Content at Hulu, who said, "Networks might be happy to get a show that 20 million people kind of like. We're more interested in finding a show that a million people love to death."
Translating that to comics, the biggest niche right now is middle-grade graphic novels. Comic and graphic novel sales in the book channel increased by 12% from 2013 through 2018, McLean said, and middle-grade graphic novel sales went up 33% (adult graphic novel sales actually declined slightly). "I really believe there is a huge, emerging audience that we haven't seen before," said McLean. "It is approximately age 7 to age 18, particularly that tween who is reading Raina Telgemeier, who maybe got into this new medium via Raina, and is now really hungry." Between their top-selling Graphix imprint and the book fairs that bring the books directly to the readers, Scholastic "owns the market," McLean said, but she added "there's plenty of room underneath."
While kids' titles are the largest and fastest growing segment of the graphic novel market, manga is not far behind, and what caught McLean's interest was the way anime drives manga. She compared streaming data for the Fullmetal Alchemist anime on Netflix with sales of the manga in bookstores, noting that each peak in viewership was followed by a peak in manga sales. "You can see that people are watching, they are generally binging, and then they will go and make an investment in manga," she said. "The anime is driving the manga." She also pointed to the eight manga with the highest sales growth, all of which are associated with either a game or streaming anime.
Fans can be fickle, though, and therein lies danger. McLean cited three cautionary tales: The all-female reboot of
Ghostbusters,
which got abysmal ratings on Rotten Tomatoes before it even came out; the design of the title character for the Sonic movie, which was so hated by fans that the movie was delayed for a year so the character could be re-rendered; and Netflix's new release of the anime
Neon Genesis Evangelion,
which downplayed some themes and omitted the iconic music from the original version. "Fans had a terrible reaction to both of those things," McLean said of the
NGE
debacle. "They felt that some of the basic character structure was totally ruined by the softening of the themes, and they have started Bittorrent pirating of this at very high rates, which has really cost Netflix some viewership."
On the other hand, the success of
The Adventure Zone,
a graphic novel based on the gaming podcast of the same name, took retailers and the publisher by surprise. Driven by fans of the podcast, the book went straight to the top of the best-seller list, selling out at the distributor level and sending retailers in a "mad scramble" to get more.
Another intriguing case is the surge in sales of
Dungeons & Dragons
games that tie in with the television show
Stranger Things
(see "
'Stranger Things Dungeons & Dragons Starter Set'
"). "Sales of Dungeons and Dragons quadrupled, I'm told, since the Stranger Things licensed merchandise rolled out," McLean said. "And there's pretty good evidence that the basic player games outsold everything. I think they are up 75% this year. That's an interesting license within a license success story and I think we are going to see more and more of those in this wild and wacky world we are in right now."
She concluded with five key takeaways:
A new ecosystem is emerging for entertainment. "There's no single, predictable path to build and sustain a property across different platforms," McLean said, "so we just have to be really mindful about the ways content is moving around."
Technology is empowering consumers. "I'm watching all the smart TVs and smart speakers right now to see if we are going to move from a mobile centered universe to a smart speaker centered universe," McLean said. "Watch that and know that the consumers are in charge of their patterns of consumption."
Publishers must pay attention to how they roll out content, for instance, whether to go from streaming video to other platforms.
It's important to find those small groups of passionate fans, to communicate with them, and to be careful not to mess things up; as McLean commented, "They are very unforgiving when we do that."
It's also important to think "omni-channel" and create ways for a property to "live" on different platforms.
For the full video presentation and slide deck from McLean's talk, see our ICv2 Pro article "Case Studies on Comics and Streaming."