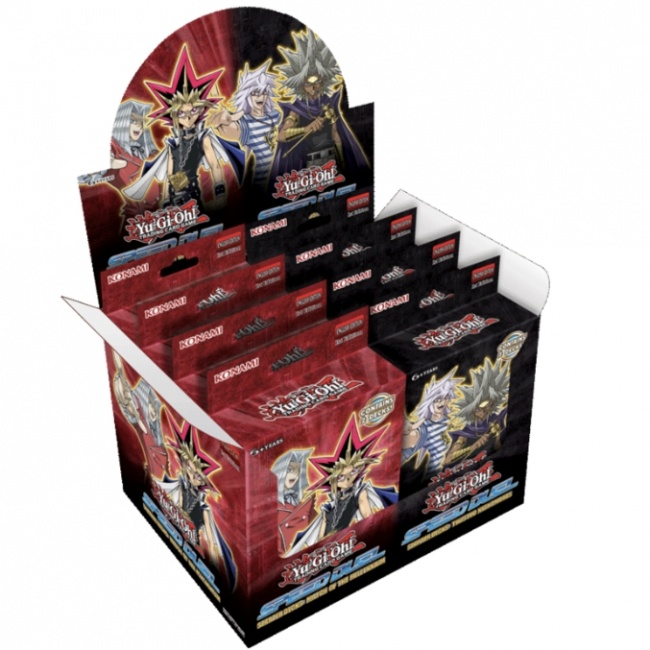 Konami Digital Entertainment will release two new
Yu-Gi-Oh! TCG Speed Duel Starter Decks, Match of the Millennium
and
Twisted Nightmares,
in May.
Match of the Millennium
brings two 31-card decks inspired by Yugi and Pegasus's face-off from the end of Duelist Kingdom, each deck customizable depending on which Skill card players want to play.  The Yugi deck offers support for Gia the Fierce Knight and Black Luster Soldier, while Pegasus's brings in the "Toon" monsters and Thousand-Eyes Restrict. 
Match of the Millennium
contains one 31-card Yugi deck, one 31-card Pegasus deck, four skill cards (two for Yugi and two for Pegasus), and two Ultra Rare variant cards.
Bakura and Marik's duel from the end of Battle City comes to the center stage in
Twisted Nightmare
.  The starter deck features two 30-card decks, designed to be customized around one of the two new Skill Cards players can choose from.  Bakura's deck features Dark Necrofear and Dark Ruler Ha Des, while Marik's deck puts the spotlight on Lava Golem and "Dark Lucius" monsters.  Each
Twisted Nightmares
deck includes one 30-card Bakura deck, one 30-card Marik deck, four Skill cards (two for Bakura and two for Marik), and two Ultra Rare variant cards.
Both decks will be available on May 15 and will retail for $9.99.
Match of the Millennium & Twisted Nightmares
follow the April release of
Eternity Code
(see "
'Eternity Code' Brings Plunder Patroll to 'Yu-Gi-Oh! TCG'
").