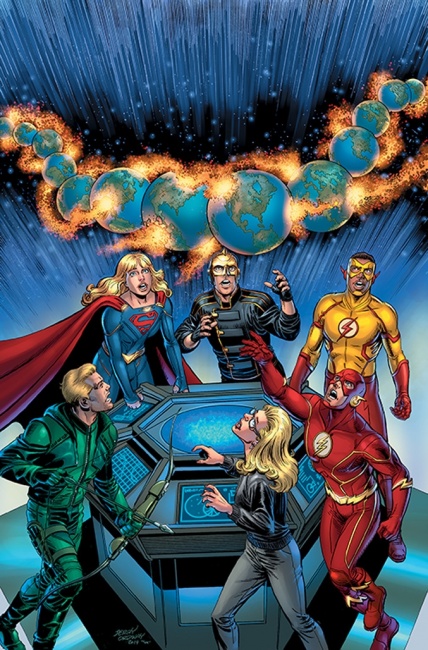 DC Comics will release the
Crisis on Infinite Earths: Arrowverse Deluxe Edition HC
on May 5.
The 96-page hardcover collects the Arrowverse related stories from Crisis on Infinite Earths 100 Page Giant #1-2, along with new behind-the-scenes content. The stories collected are written by Marc Guggenheim (Arrow showrunner) and Marv Wolfman, and features art by George Perez, Tom Derenick, Tom Grummett, and others. The collection will feature a cover by Jerry Ordway.
Felicity Smoak sets out on a multiverse-spanning adventure to try and locate the keys to the Ant-Monitor's plans. Lex Luthor forms an alliance with a council of Luthors. Will they play nice to save the Multiverse?
This book will retail for $17.99.
Announced in December ahead of the CW's Crisis on Infinite Earths crossover, the 100-Page Giant issues featured tie-in stories as well as reprinted material from the original comic event (see "'Crisis on Infinite Earths 100-Page Giant' For CW Crossover Event").