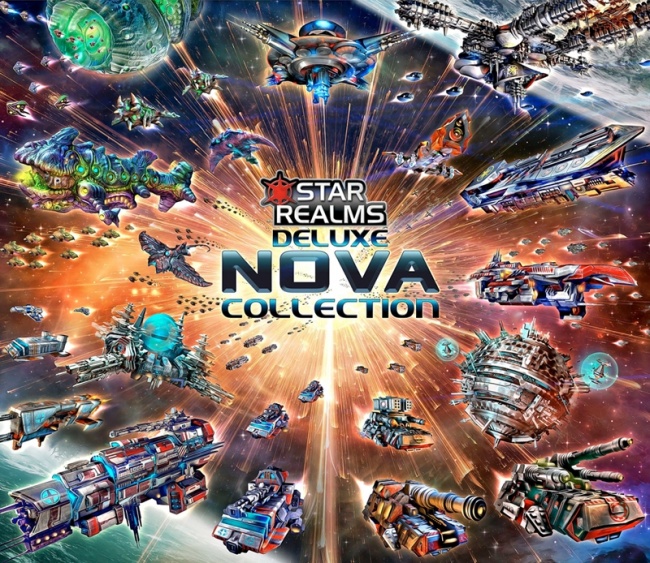 White Wizard Games is producing the
Star Realms Deluxe Nova Collection
, an upgraded version of its hit
Star Realms
deckbuilding game available exclusively through a Kickstarter campaign and scheduled to release in November.
Originally released in 2014 and spawning multiple expansions, Star Realms is a science fiction themed card game of outer space combat (see "'Star Realms' Deck Building Game"). Now White Wizard is offering a deluxe consolidated version. The Star Realms Deluxe Nova Collection will include the original game and many of its expansions. It will have foil versions of every card from the Star Realms base set, Promo Pack 1, Gambits, Crisis: Bases and Battleships, Crisis: Events, Crisis: Heroes, Crisis: Fleets and Fortresses, and Cosmic Gambit. It will also come with six starting decks and extra explorers, supporting games with up to six players, and six double-sided scoring dials to assist players in tracking their Authority during the game.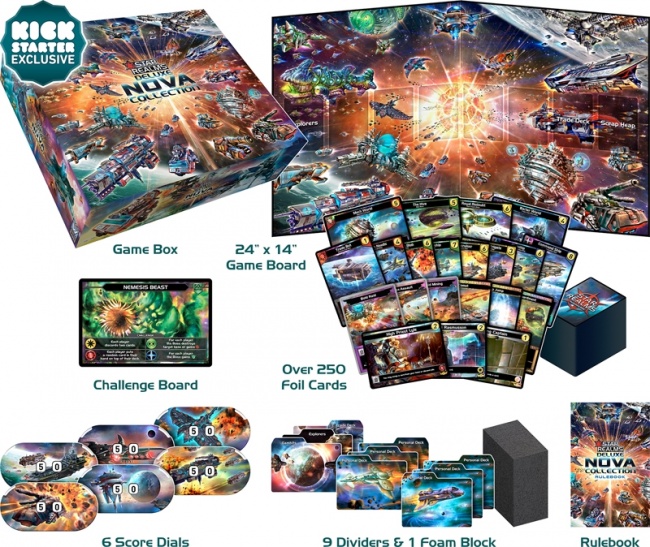 The
Star Realms Deluxe Nova Collection
will be produced as a limited edition available only through a Kickstarter campaign. It will have an MSRP of $99.00, and will include more than 250 foil cards, a 24" by 14" game board, a challenge board, 9 card dividers and a foam block to help players organize the cards, and 6 scoring dials. It is packaged in an oversized game box designed to hold the entire collection with or without card sleeves.
Click Gallery below to see components from the game.
The Kickstarter campaign has collected more than $500,000 in pledged support from over 5,000 backers with three days remaining. It includes a Retail Kit Tier restricted to brick and mortar stores that includes four copies of the game at a special price. The game will not be sold into distribution once the campaign ends. Backer fulfillment is planned for November.
Four new expansion packs for the game are scheduled to release in the fall (see "White Wizard Expands 'Epic Card Game,' 'Star Realms'").