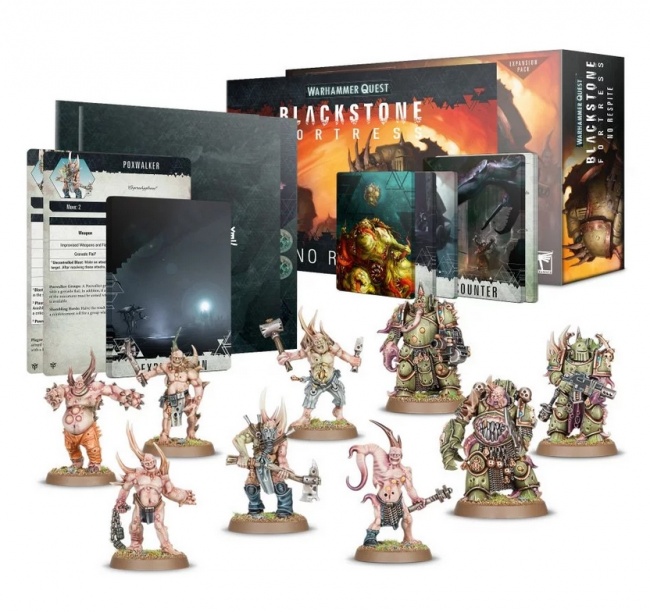 Games Workshop unveiled
Blackstone Fortress: No Respite
, a new
Warhammer Quest Expansion
, for release on February 22.
The newest Warhammer Quest expansion is absolutely plagued with new hostile forces to face in the form of Poxwalkers and Plague Marines. A demonic seed has been growing in Blackstone Fortress, and Father Nurgle and a group explorers must bless the castle before it gets out of control. This set features a new quest for players to go on, the Quest to End the Plagues, and also has rules for playing with Poxwalkers and Plague Marines in other expeditions.
This boxed set includes 3 multi-part, push fit Plague Marine miniatures, 6 multi-part, push fit and single-piece Poxwalker miniatures, a 24-page No Respite booklet, a Thrice-cursed Shrine Sheet, 2 punchboards containing 56 tokens, 9 double-sided Plague cards, 12 Affliction cards, 12 Exploration cards, 4 Encounter cards, 2 Hostile Reference cards, 3 Node of Corruption cards, 3 Medical Marvel cards, and a Thrice-cursed Shrine envelope. Blackstone Fortress: No Respite will retail for $60.00.
Games Workshop also released Psychic Awakening: The Greater Good and Commander Shadowsun for Warhammer 40,000, on February 15 (see "Games Workshop Reveals The Fifth Chapter in 'Psychic Awakening' for 'Warhammer 40,000'").
Click on Gallery below for full-size images!