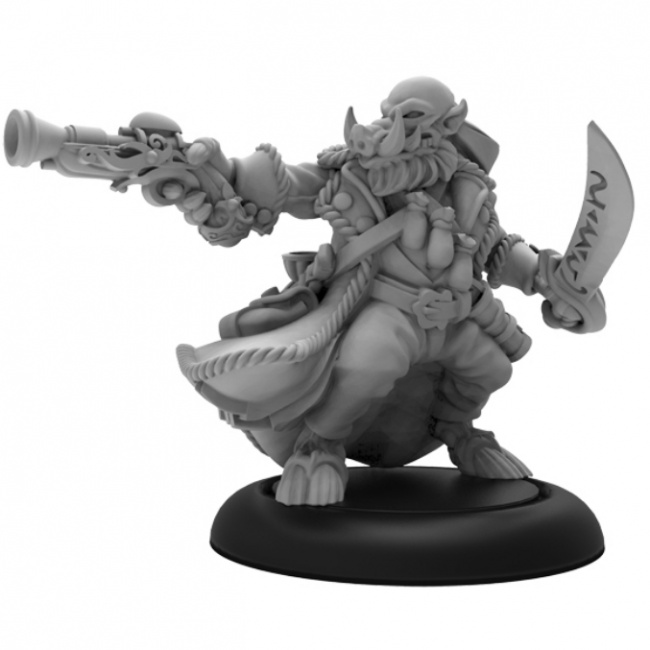 Privateer Press has announced new minions and a new way to play
Riot Quest
for release in June.
General "Thunderstone" Brug mak up for his lack of size and martial prowess with legitimate tactical genius and guile. As a Specialist Hero, Brug supports other ranged Heroes. His Special Action: Fire! Ability allows other heroes to shoot on his turn even if they've already spent their action dice. The model is playable in Warmachine & Hordes as a Trollblood Pyg Solo. This metal model will retail for $12.99.
Lord Azazello is a legendary Farrow thief that is as dangerous at range as he is close up. Lord Azaello is a Rouge Hero that disrupts the enemy's position. His Deadly Dance ability allows him to strike in melee, move, and then place the hit enemy next to him. The model is playable in Warmachine & Hordes as a Minion Farrow Warlock. It will retail for $12.99.
Malvin & Mayhem: Riot Quest Boss Fight Expansion introduces the robber Malvin and his custom warlock Mayhem, along with a new way to fight: co-op Boss Fight. The mode can be played by one to four players, using special Boss cards and rules to battle their crews against a super-power Malvin & Mayhem. The duo can be played a standard member of a player's crew in any game of Riot Quest, as well as an unique Mercenary Minion Gobber Heavy Warjack in Warmachines & Hordes. This mixed material expansion will retail for $39.99.
Privateer Press announced two other Riot Quest releases for May (see "Two Upcoming Release for 'Riot Quest'").
Click on Gallery below for full-size images!