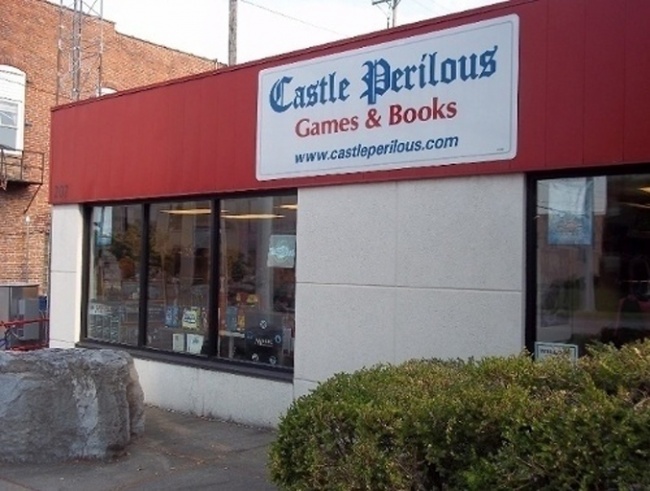 Rolling for Initiative is a weekly column by Scott Thorne, PhD, owner of Castle Perilous Games & Books in Carbondale, Illinois and instructor in marketing at Southeast Missouri State University. This week, Thorne analyzes the Asmodee news that came out of GAMA Expo and how it changes the game distribution scene.
Well, that was some major Asmodee NA news that came out of the GAMA Expo:
Asmodee becomes a full distributor in the US. For years, Asmodee has operated as a full line distributor in its home European region, but only distributed its own lines in the US to only roughly 1000 stores while exclusive distributor Alliance Distribution did most of the heavy lifting, distributing the Asmodee lines to some 2100 stores. The agreement between the two companies ends on June 31 of this year, and on July 1,Asmodee will start distributing products lines to which it does not have exclusive rights, beginning with AdMagic's Exploding Kittens. Although nowwhere near as hot when it debuted in 2018, Exploding Kittens, its NSFW version, and assorted expansions still sell steadily and is a nice product line with which to start, especially if Asmodee can offer a better discount than most stores get on the product. I can see why Asmodee would want to ramp up its distribution activities with its own product lines, as doing so would likely add another 10-15% to the company's gross margin. Although Asmodee has experience in full line distribution outside the US, in the US it will seek to compete against five already entrenched full line distributors, four of which (ACD, GTS, Southern Hobby, Peachstate) have done fairly well for the past several years without access to the Asmodee stable of products. Given the importance of the Asmodee lines to the boardgame segment, Alliance can expect to see both a drop in sales and an increased number of accounts shifting significant parts of their ordering to either Asmodee direct or ACD, which will assume the role of sub-distributor played by Alliance the past few years. Unfortunately for ACD, while it will see sales grow as a result of the new alignment, it will also have more direct competition from Asmodee than Alliance saw during its tenure.
Price Increases. Asmodee also announced a price increase on about two dozen of its most popular games, $5 on most of them but $10 on Pandemic Legacy, and the core Star Wars: Legion set. The company says the tariffs have nothing to do with the price increase, instead the company felt it could no longer absorb the increase in costs from inflation over the past several years and finally needed to pass it on. From a retailer point of view, a price increase is far superior to a margin reduction as, although our prices increase, so does MSRP, allowing stores to make the same gross margin as before, unlike a few other companies which, in order to increase profits, reduced gross margin, making the publisher more profit while reducing retailer profit.
Maintaining MAPP. Not a major change but glad to see that Asmodee, since it has a MAPP in place, does work to enforce it. Asmodee representatives, although they would not name specifics, have said in the past that, when the company finds resellers violating MAPP on Amazon, it has contacted Amazon and pulled those products from the platform for a period of time. I didn't know they had three software programs and two full time employees working to enforce MAPP as, like most retailers, the only time I notice is when somebody finds a store violating the policy. All the times Asmodee enforces the policy, retailers never notice.
The effects of the first change will prove quite interesting, especially as we come into Q3 and Q4 and we see how the changes affect the availability of Asmodee products during the holiday season.
The opinions expressed in this column are solely those of the writer, and do not necessarily reflect the views of the editorial staff of ICv2.com.