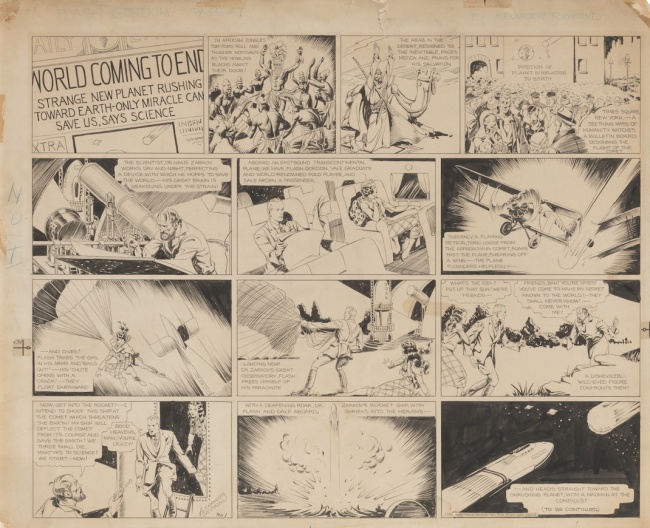 The original art for Alex Raymond's first
Flash Gordon
newspaper strip was sold at auction for $480,000 yesterday, the Profiles in History auction house announced. This is the highest price ever realized for a piece of comic strip art. The piece was consigned to Profiles in History by the widow of an unidentified life-long collector, who had it framed on his wall.
The art was created by Raymond for King Features Syndicate, and published in newspapers on Sunday, January 7, 1934. The initial strip introduced Flash Gordon, Dale Arden, and Dr. Hans Zarkov. King Features commissioned the Sunday strip to compete with the successful Buck Rogers strip; Flash Gordon soon surpassed Buck Rogers in popularity.
Giving some idea of the longevity of the property, 86 years after launch Archie Comics is scheduled to release Archie Meets Flash Gordon #1 in June (see "Flash Gordon Quarterbacks the Riverdale Gang to Save Earth").
From what we can tell, the strip was last collected by Titan Books in 2012.