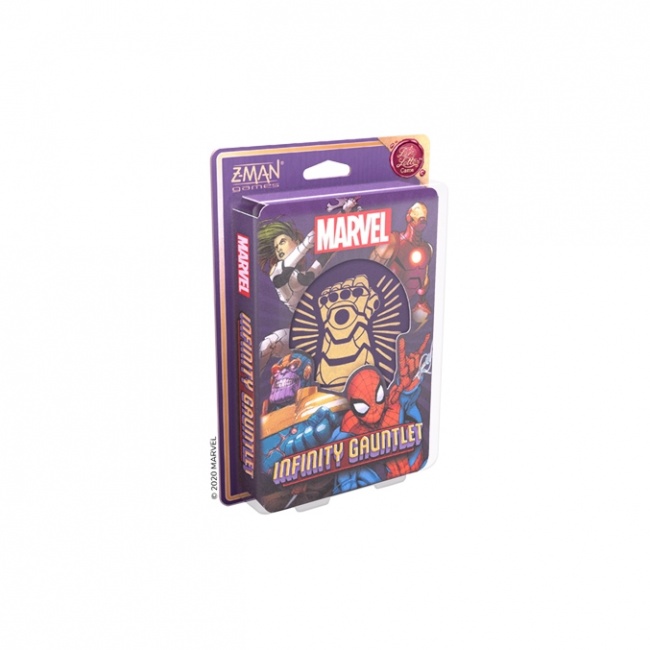 Z-Man Games unveiled
Infinity Gauntlet: A Love Letter Game
, a new card game based on the original
Love Letter
game.
Thanos is after the Infinity Stones again, and only the heroes of the MCU have the guts to defy his will. This game is based on the mechanics of the original Love Letter game and offers an innovative one-vs-many twist for team play. In this game, one player will assume the role of Thanos, who is trying to warp the universe to his morbid visions by getting all six Infinity Stones, and the other players take on the roles of heroes in an attempt to defeat him.
Hero players can use the abilities of Marvel favorites like Iron Man, Spider-man, Thor, and Scarlet Witch to do battle and thwart the Mad Titan's schemes. The game concludes when either the heroes or Thanos have been beaten down to zero health or Thanos finds all the Infinity Stones and wins. The game box comes with 36 cards, 9 Power tokens, 2 plastic sliders, a cloth bag, and a rulebook.
This game is for two to six players, ages 10 and up, and plays in 15 minutes. Infinity Gauntlet: A Love Letter Game will retail for $14.99. No official release date was listed for this product as of the publication of this article.
Z-Man Games recently let go of English editions of Feuerland's Terra Mystica and Gaia Project from their stable of game titles (see "Capstone Picks up 'Terra Mystica,' 'Gaia Project'").
Click on Gallery below for full-size images of the cards!