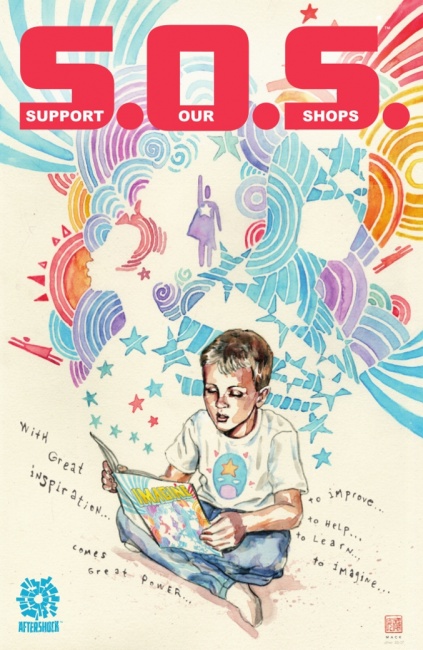 AfterShock Comics has assembled seven new stories about the irreplaceable role comics play in the lives of creators and fans into a special 48-page one-shot,
Support Our Shops (S.O.S.),
which will be released June 24, the company, led by Publisher Joe Pruett, announced. The comic was created as a free benefit book for comic stores to sell at MSRP, to give away, or to use as a purchase incentive. AfterShock Senior Vice President of Sales and Marketing Steve Rotterdam explained the plan. "Speaking and connecting with hundreds of comic shops regarding the challenges they face – as an overall retail channel and as individual and independent business owners – we felt an obligation to give something back, something that was uniquely AfterShock," he said.
The comic includes exclusive stories by Cullen Bunn, Stephanie Phillips, Zac Thompson, Steve Orlando, Jamie McKelvie, Jerry Ordway and Aaron Douglas, with art from Leila Leiz, Don Kramer, Szymon Kudranski, Ro Stein & Ted Brandt, Gordon Purcell and Cliff Richards, and cover by David Mack. "These are heartfelt stories, crafted by creators with deep, lasting connections to the comic shops of yesterday, today and, we have no doubt, tomorrow," AfterShock Publisher Joe Pruett said.
Diamond Comic Distributors' top 200 AfterShock accounts will each receive 20 free copies per storefront; the next 300 accounts will each receive 10 free copies per storefront, and stores not included in those rankings may receive copies on request or through their AfterShock Amabssador. "S.O.S. is our small way of saying 'thank you' to all of the wonderful stores that have supported AfterShock since the beginning," AfterShock Editor-In-Chief Mike Marts said of the program.
Click Gallery below for full-size art preview!