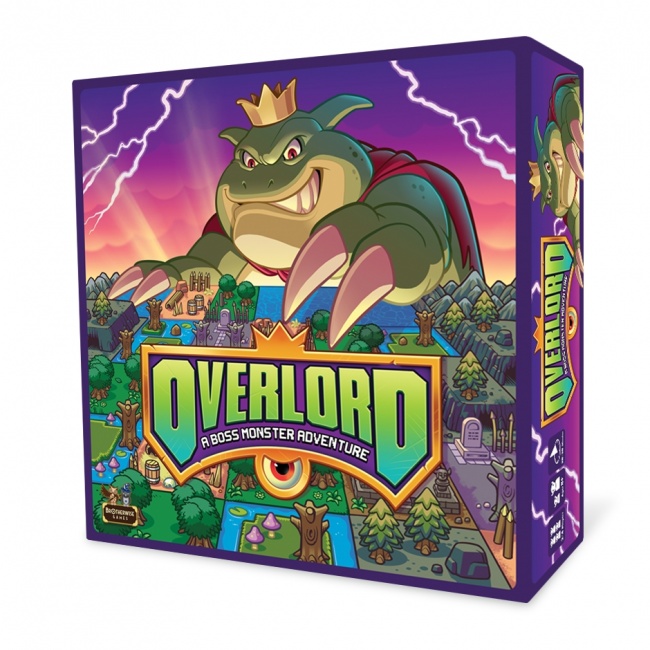 Brotherwise Games has announced
Overlord: A Boss Monster Adventure
, a stand-alone game set in the
Boss Monster
universe, with release into the trade scheduled for late October.
Overlord is a tile-drafting style game for two to four players. Players build their own "Overworld" map by drafting tiles and placing monster tokens on them. Points are earned based on the creation of sets, combinations of tiles, and token placement.
Like Boss Monster, Overlord will feature retro style pixel artwork. Both games are set in a common game setting, but Overlord is entirely separate and has different game mechanics, created by Aaron Mesburne and Kevin Russ (Tumble Town, Calico).
The base game will be released in late October with a suggested retail price of $44.95. Brotherwise will seek funding for production of
Overlord
through a Kickstarter campaign, which will include a retailer-only funding option. The game's components and final contents will be determined during the course of the campaign.
Boss Monster was launched in 2012 (see "'Boss Monster' Card Game") and continues to be a solid seller for Brotherwise, claiming a spot on ICv2's list of top selling card and dice games as recently as last fall (see "Top 10 Hobby Channel Card/Dice Games--Fall 2019") and selling over 800,000 copies to date according to the company. Brotherwise plans to release a new 64-card Boss Monster expansion in October as well, called Vault of Villains.
In August, the company plans to release Justin Gary's social deduction game Night of the Ninja (see "Brotherwise Games will Release 'Night of the Ninja'").