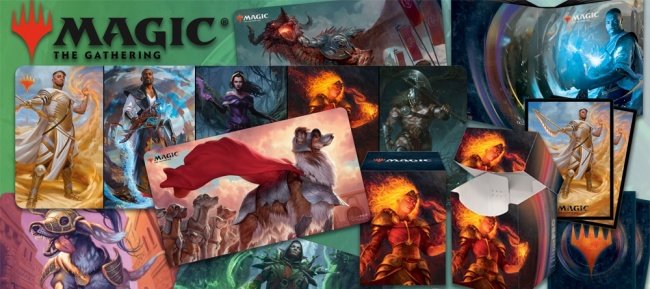 Ultra PRO revealed its line of
Magic: The Gathering
accessories for the new
Core Set 2021
(see "
Wizards of the Coast Reveals More Deets on 'Magic: The Gathering' 'Core Set 2021'
"). These accessories will launch for the prerelease of the new set on June 26.
The latest swath of Ultra PRO products include a wide range of the usual items featuring Core Set 2021 planeswalker art on them. This product line breaks down as follows:
Chromafusion Deck Protector Sleeves. The new sleeves feature Core Set 2021art for Teferi, Chandra, Garruk, and the newest planeswalker, Basri Ket. There are also sleeves with the Magic: The Gathering logo on them. Each pack comes with 100 sleeves that retail at $11.49.
100+ PRO Deck Boxes. The deck boxes mirror the art on the sleeves. Each box holds up to 100 cards and will retail for $4.99.
Playmats. The playmats come in a variety of designs, some featuring dogs to celebrate the new creature type. They retail for $21.99 each.
Tablemats. These new tablemats feature all of the planeswalkers in the set. The six foot one is $94.99 and an eight foot version is $112.99.
9-Pocket PRO Binder. The binder holds 360 sleeved cards, and will retail for $23.99.
Ultra PRO released a similar line of products for the Ikoria: Lair of the Behemoths set (see "Preview: Ultra PRO's 'Magic: The Gathering - Ikoria: Lair of the Behemoths' Accessories").
Click on Gallery below for full-size images!