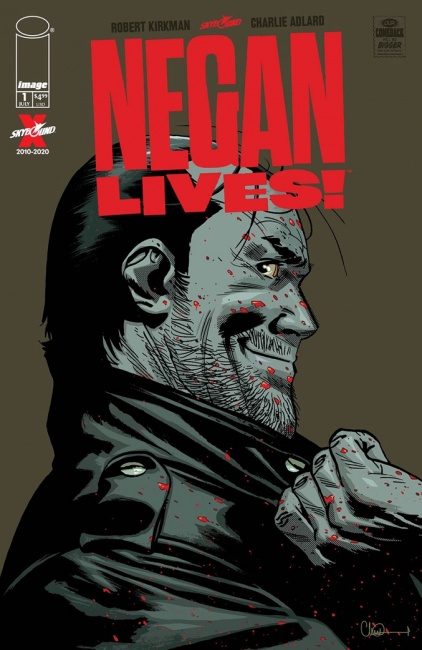 Image Comics announced that
Negan Lives
#1, a surprise
The Walking Dead
one-shot, will ship to retailers free and without the burden of freight costs on July 1.
Negan Lives #1 is a one-shot by Robert Kirkman and Charlie Adlard that is intended to boost customer enthusiasm as retailers reopen in the wake of the COVID-19 pandemic. This offers a glimpse into what has happened to Negan since his last appearance in The Walking Dead #174.
"While Charlie Adlard and I had laid the series to rest, this felt like something special we could do for the store owners who made our series a success to begin with," said Kirkman of the project. "To that end, I'm happy to report that 100% of the revenue generated from this book will go to the stores selling it. The retailer community does backbreaking work to get comics into the hands of our loving fans, we should all be doing more in these trying times to show them how appreciated they are."
Image Comics also went a step further and declared that Negan Lives #1 will not be made available in digital formats and is exclusive to comic book shops. Additionally, this book is a 36-page black and white comic featuring extremely rare Gold and Silver foil variants.
Image's timing of this book's release couldn't be better because it helps fill a skip week, with the Big Two comic publishers releasing few if any titles during the week of July 1 (see "Dynamite Moves Its Best Sellers to Skip Week, including 'The Boys: Dear Becky'"). Dynamite Entertainment and Image Comics have come through for retailers during this shipping gap, which will be likely rewarded in the long-run.
Click on Gallery below for a full-size image of the cover!