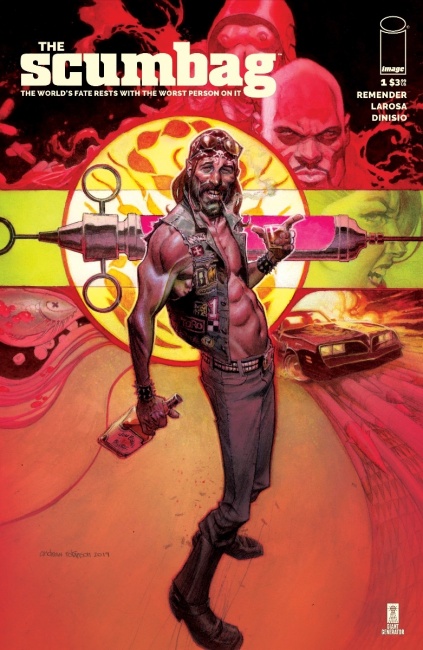 Image Comics revealed
The Scumbag
, a new comedy espionage series by Rick Remender, for release in October.
Rick Remender, New York Times bestselling writer and showrunner of SyFy's Deadly Class, has penned a new series called The Scumbag which tells the story of Ernie Ray Clementine, a drug-addicted, poorly educated biker that is the only buffer between humanity and total disaster. Ernie has been given a super serum that made him the world's most powerful super spy. His skill set is in demand, but the spy organization that needs his need have to get past Ernie's own self-interests to get him to do the job!
The first issue of the new series features art by Lewis LaRosa with subsequent chapters and covers by Andrew Robinson, Eric Powell, Tula Lotay, Wes Craig, Roland Boschi, Simone Di Meo, Duncan Fegredo, Yanick Paquette, Mike McKone, Dave Johnson, and Moreno Dinisio. This book will retail for $3.99.
Image Comics also announced that Negan Lives #1, a surprise The Walking Dead one-shot, will ship to retailers free and without the burden of freight costs on July 1 (see" 'The Walking Dead' One-Shot, 'Negan Lives #1' Free to Retailers July 1").
Click on Gallery for full-size images!