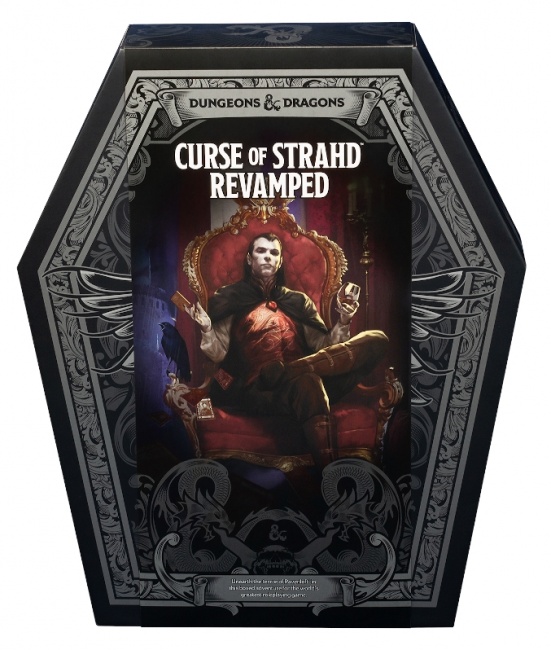 Wizards of the Coast will release
Curse of Strahd Revamped
, a boxed collector's edition of the famed
Dungeons & Dragons
adventure, on October 20, in the run-up to Halloween, the company announced.
The Gothic horror adventure, for use with 5E Player's Handbook, Monster Manual, and Dungeon Master's Guide, will be broken down into three parts: a softcover 224-page adventure book for characters of levels 1-10, with the latest errata and a new, more inclusive depiction of the Vistani; a 20-page Creatures of Horror booklet with new monsters introduced in the adventure; and an 8-page Tarokka Deck booklet. The illustrated and foil-stamped Tarokka Deck, useful in guiding the heroes' path through the adventure, comes with a storage box.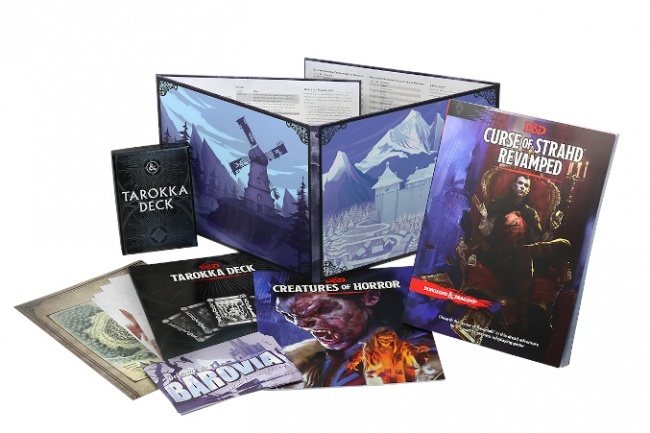 The coffin-shaped box also includes a Dungeon Master's screen, a double-sided poster map illustrating Barovia on one side and Castle Ravenloft on the other, and 12 postcards that DMs can use to invite players, with four designs showing Castle Ravenloft, Old Bonegrinder, the Abbey of Saint Markovia, and Death House.
WotC released Curse of Strahd, a 5E version of the adventure from the 1983 Ravenloft D&D module, in 2017 (see ""D&D: Curse of Strahd'"), with the Tarokka deck released separately by Gale Force Nine (see "GF9's 'D&D: Curse of Strahd Tarokka Deck'").
MSRP will be $99.99.
Click Gallery below for full-size pics!