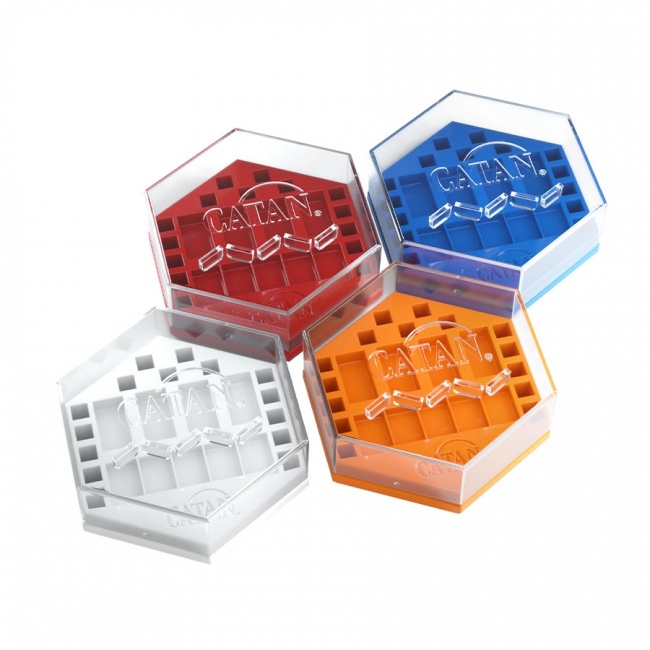 Gamegenic, alongside CATAN Studio, revealed a product line of officially licensed accessories for
CATAN
board games set to release in September.
The new CATAN accessories cover a gambit of storage, organization, and gameplay enhancements to CATAN board games. The CATAN Trading Post is a card sorting tray, dice tray, and storage unit in a single compact design. Its top row slides seamlessly back into place, and its cover coverts into a dice tray. The CATAN Hexatower is both a dice tower and a storage box which features magnets to keep the box closed.
One of the more interesting designs amongst the accessories is the CATAN Hexadocks that help players organize their wooden pieces in a self-contained unit. The Hexadocks are excellent for play on the go, and keep the wooden pieces in place under a clear protective cover.
"We were wowed by each design and we are proud to bring these tough, tactile accessories into our collection of fine CATAN products," said Pete Fenlon, CEO of CATAN Studio.
Adrian Alonso, Head of Gamegenic, also offered some insight into the creative process at Gamegenic:
"We don't rely on existing ideas, but always strive to rethink every single detail," said Adrian Alonso "With the unique relationship that people have with their games, we take improving their needs very seriously. CATAN deserves extraordinary accessories, and this is a collection of our very best thinking."
The CATAN Trading Post will retail at $49.99, while the CATAN Hexatower comes in at a MSRP of $19.99. The CATAN Hexadocks for the base players set, four players, will be $24.99, and the five and six player CATAN Hexadocks Extension set will retail at $14.99.
Recently, Gamegenic and game publisher CMON Limited have entered into a strategic partnership for Massive Darkness 2 and beyond (see "Gamegenic, CMON, Tie Up on Accessories").
Click on Gallery below for full-size images!