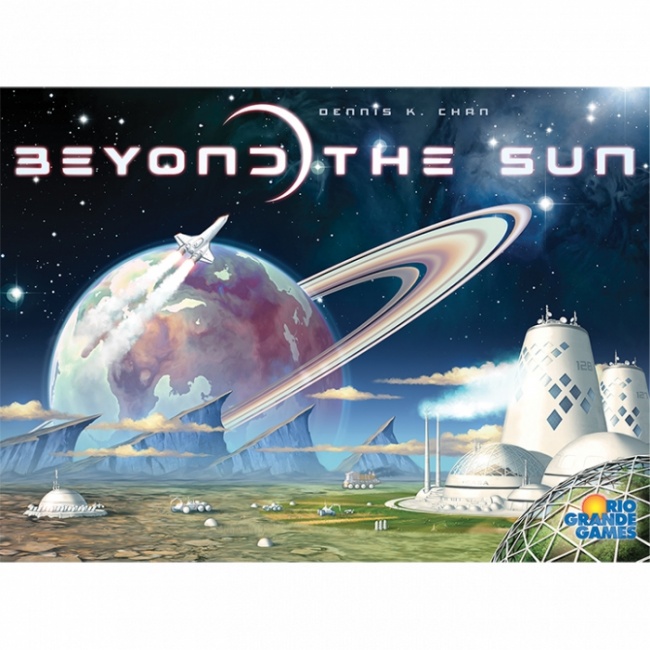 Rio Grande Games announced
Beyond the Sun
, a science fiction board game by Dennis K. Chan, will release in 2020.
The Earth is dying and various leaders are looking to explore the depths of space for a new world to colonize. Players assume the role of faction leaders, and take turns taking actions on the technology board to produce resources. More actions emerge for the players to use as new technologies develop, and actions can let players expand their economy, move spaceships, colonize systems, or research new tech. The faction with the most points at the end of game wins, and there are multiple routes to victory.
The game box comes with a Technology Tree game board, a double-sided Space Exploration board, 46 Technology cards, 20 Event cards, 24 System cards, 10 Achievement cards, 2 Action replacement tiles, 2 Technology Tableau bars, a starting player marker, 4 Guild cover tiles, 60 Ore crystals, 8 dual-layer faction mats, 80 six-sided Resource cubes, 96 wooden marker discs, 6 player aids, 4 action pawns, and a rulebook. Beyond the Sun is for two to four players, ages 14 and up, and plays in 90 to 120 minutes. It will retail for $74.95.
Rio Grande Games also recently announced Southern Rails, a railroad-building game designed by Winsome Games (see "Rio Grande Games Announces 'Southern Rails'").
Click on Gallery below for full-size images!