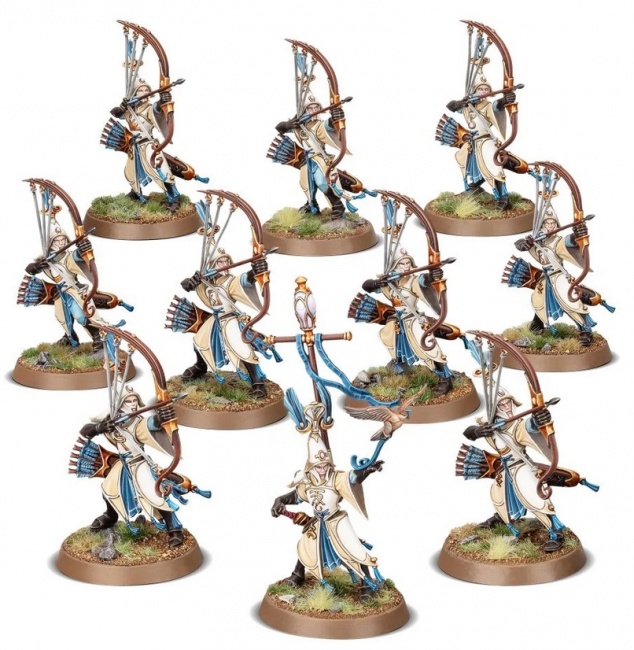 Games Workshop will release the
Lumineth Ream-lords Collection
and
Battletome: Lumineth Realm-lords
, miniatures and rulebook for use with
Warhammer: Age of Sigmar
, for release September 12.
The Lumineth Ream-lords Collection was previewed earlier in the year at the Las Vegas Open in January (see "Games Workshop Reveals 'Lumineth Realm-lords' For 'Warhammer: Age of Sigmar'"), but details were limited as to what the price of the miniatures were or which miniatures were coming out. Games Workshop has now released the full details on the sets and the accompanying Battletome.
The entire collection retails for $360.00 and includes the following sets, each of which can be purchased individually:
The Light of Eltharion. This is a single miniature set that contains a spectral champion to lead the Lumineth force. This set comes with 15 plastic components and a 50mm round base for an MSRP of $40.00.
Archmage Teclis and Celennar, Spirit of Hysh. This is a godlike commander who is one of the ultimate leaders of the Lumineth armies. This set includes a single miniature with 70 plastic components and a 160mm round base for $170.00.
Vanari Auralan Wardens. Lumineth spearmen that are good for holding objectives and have interchangeable shields and helms. The kit can build up to 10 Wardens with various designs for $60.00.
Vanari Auralan Sentinels. This set build up to ten archers capable of shooting at targets from a distance. The kit comes with interchangeable heads and quivers, and will retail for $60.00.
The Scinari Cathallar. This single miniature set comes with a key support character that is a strategic unit for Lumineth forces. The set comes with 12 plastic components and includes a 32mm round base for $30.00.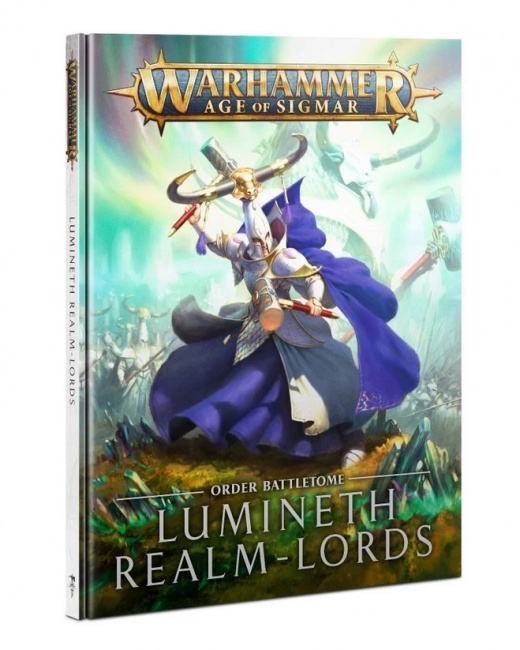 Alongside the new miniatures sets, Games Workshop will release
Battletome: Lumineth Realm-lords
. This 90-page hardcover features Allegiance abilities for Lumineth, 2 spell lores, 2 battleplans,4 warscroll battalions, 13 warscrolls, and 3 endless spell warscrolls. It will retail for $40.00.
Click on Gallery below for full-size images!