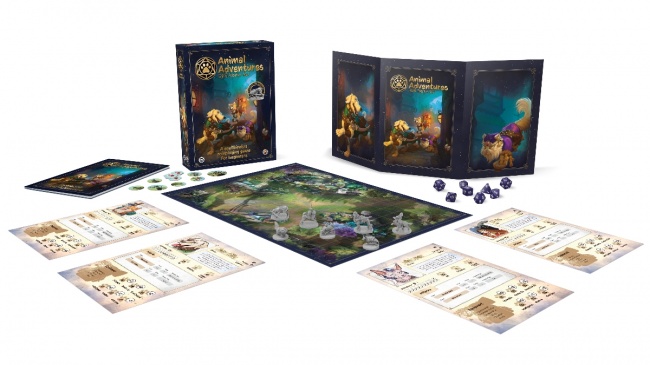 Steamforged Games announced
Animal Adventures RPG Starter Set
, a new roleplaying game beginner set, for release on November 9.
Following up on the success of Dungeons & Doggies (see "Steamforged Announces 'Dungeons & Doggies Volume 3'") and Cats & Catacombs (see "Steamforged Games Will Release Feline Character Classes Compatible with 'Dungeons & Dragons 5E' Rules "), SFG introduces the Animal Adventures RPG Starter Set. It is a set is for the true beginner who wants to dive into spellbinding adventures with cats and dogs. The set also comes with a Chantilly the Labrador miniature, which is unique to this product.
The game box comes with a easy-to-follow rules set, 4 dog miniatures, 3 cat miniatures, 7 character sheets,a double-sided game map, a gamemaster screen, a set of illustrated tokens, and a set of paw-lyhedral dice. It will retail for $39.95.
Click on Gallery below for full-size images!