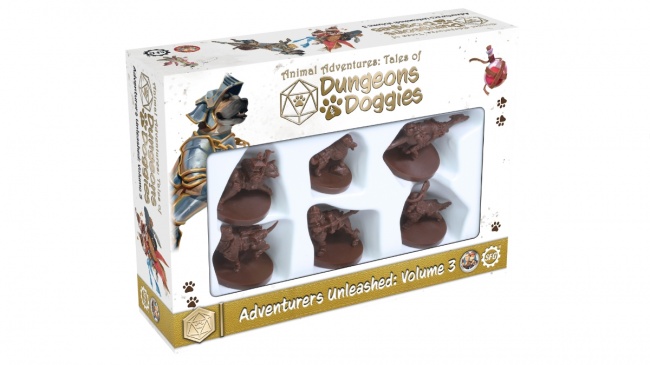 Steamforged Games has announced plans to release the third set in its
Dungeons & Doggies
miniatures line straight to retailers on January 17.
The Dungeons & Doggies line features Dungeons and Dragons character classes re-imagined in canine form. The initial two sets were original sold through a Kickstarter campaign in July, 2018 that attracted £376,454 (about $500,000) in pledges from 13,825 backers (an average of about $36 per backer) before being released into the trade. The new set, Animal Adventures: Tales of Dungeons & Doggies Adventures Unleashed: Volume 3 was not part of the Kickstarter offering, and the models included in this set will be available for the first time in this release.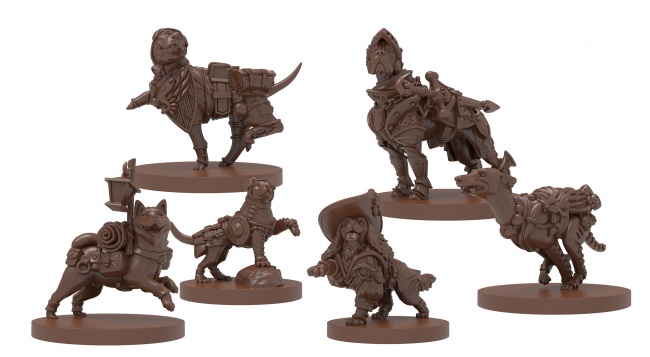 Dungeons & Doggies Volume 3
will include the Jack Russel fighter, Greyhound monk, Cavalier bard, Boxer paladin, Shiba Inu ranger, and Pitbull cleric. The six models are molded in plastic and come unpainted. MSRP is $25.00.
Later this month, Steamforged will release a trio of new miniatures for its Guild Ball game (see "Steamforged Games Unveils Three New 'Guild Ball' Miniatures").