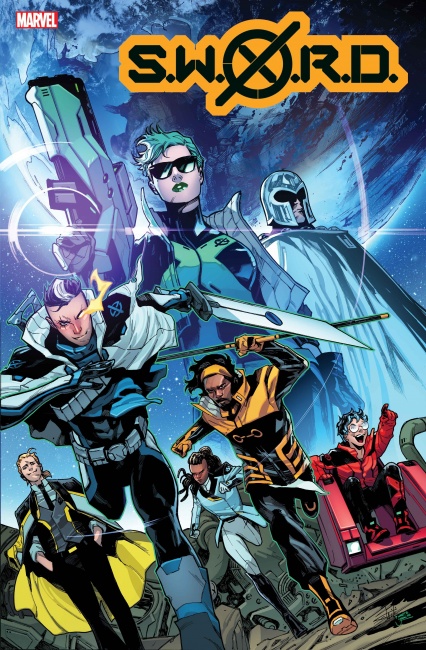 Marvel Comics announced
S.W.O.R.D. #1
, a new space age
X-Men
title written by Al Ewing.
In S.W.O.R.D. #1, which takes place after X of Swords, mutantkind readies itself to relaunch the Sentient World Observation & Response Directorate in an attempt to deal with extra-terrestrials on behalf of Earth. The cast of mutants featured in this series includes Magneto, Abigail Brand, Cable, Frenzy, Wiz Kid, Fabian Cortez, former Avenger Manifold, and more. This book features the writing of Al Ewing, of Immortal Hulk fame, and pairs him with artist Valerio Schiti who worked on Empyre.
"[F]ans of my more cosmic Marvel work will have plenty to digest,... as mutantkind thinks even bigger and takes it even further," said Ewing of the new series.
S.W.O.R.D. #1 is scheduled to arrive in retail stores in December.
Marvel Comics also launched Ewing's Immortal She-Hulk in September (see "Al Ewing Takes on She-Hulk").
Click on Gallery below for full-size cover image!