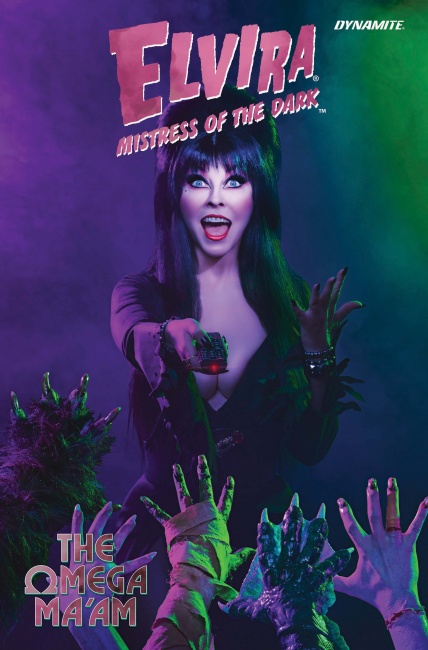 Dynamite Entertainment announced that Elvira will write
Elvira Mistress of the Dark
:
The Omega Ma'am
, an exclusive one-shot available for preorder on Kickstarter, which will be available to retailers through an reward bundle that will deliver in March 2021.
The Mistress of the Dark will be featured in a "Quarantine Special" comic book that she will write alongside David Avallone. The story begins with Elvira waking up from a hairspray overdose coma to find that Los Angeles is deserted. She then has a run-in with a cult of zombie-like survivors who have ingested so many cleaning products that they have altered their DNA. This book offers up a mix of horror and camp like no one but Elvira can deliver.
The art for this one-shot will be provided by Dave Acosta. This 48-page book is offered through the KS campaign in four different covers: coloring book, "virgin-ish", standard, and a photo. The retailer pledge level includes 8 unsigned copies of the book along with an Elvira Trading Card set for $100. As of the publication of this article, the KS has raised $15,421 of a $6,666 goal with 151 backers (about $102 per backer).
Dynamite recently released a preview of Elvira: Mistress of the Dark Vol.2 TP (see "Preview: 'Elvira: Mistress of the Dark' Vol. 2 TP")
Click on Gallery below for full-size images!