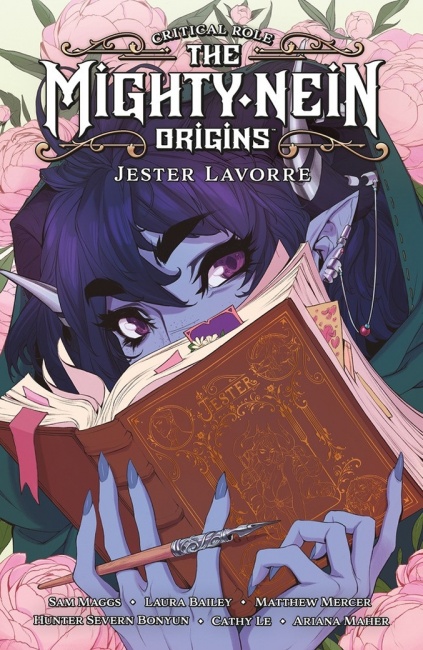 Dark Horse Comics and Critical Role unveiled
Critical Role: The Mighty Nein Origins
, a brand new line of hardcover graphic novels, which will release its first books in 2021.
This new line of graphic novels will be character-centric stories focusing on Jester, Caleb, Fjord, Mollymauk, Yasha, Beauregard, Nott, and Caduceus. The first book, Critical Role: The Mighty Nein Origins: Jester Lavorre, explores the back story of Jester Lavorre. In her early years, she was known as the daughter of the famed Ruby of the Sea. Her story details her first meeting with the Traveler, and the events that led her to join the Mighty Nein. This book is written by Sam Maggs with line art by Severn Bonyun and coloring by Cathy Le under direct consultation of Critical Role cast members Laura Bailey and Matthew Mercer. It will arrive June 16, 2021 retail for $17.99.
The second book, Critical Role: The Mighty Nein Origins: Caleb Widogast, recounts the events that led Bren Aldric Ermendrud to transform into Caleb Widogast. It features writer Jody Houser with illustration by Selina Espiritu and coloring by Diana Sousa under the direction from Critical Role cast members Matthew Mercer and Liam O'Brien. This book will come out on July 14, 2021 and retail for $17.99.
Critical Role also announced the launch of Darrington Press, a new tabletop game publishing company (see " Critical Role Ventures into Tabletop Publishing").
Click on Gallery below for full-size images!