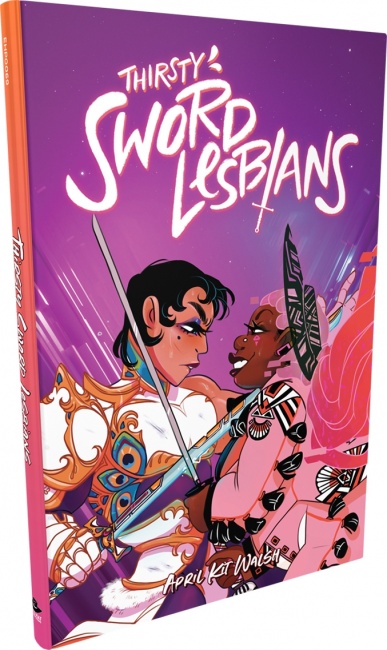 Evil Hat Productions will release
Thirsty Sword Lesbians
, a tabletop RPG, into trade in mid-2021 after a Kickstarter backer release.
Thirsty Sword Lesbians is a tabletop RPG by April Kit Walsh where players can choose a sword and explore all the flirting and swashbuckling involved this new LGBTQ fantasy world. Players can assume the roles of The Beast, Chosen, Devoted, Infamous, Nature Witch, Scoundrel, Seeker, Spooky Witch, and Trickster, and shape their character using that archetype's particular brand of emotional conflict. They will attempt to solve problems with wit, empathy, and style as well as do battle to redeem or seduce their rivals. This game runs on the "Powered by the Apocalypse" game engine (see "New Teen Superhero RPG"), which keeps the story moving regardless of dice results.
This game supports three to six players, ages 13 and up, and plays in about two to four hours. The KS project had 8,152 backers that pledged a total of $298,568 (about $36.75 per backer). The MSRP on this book is $30.00.