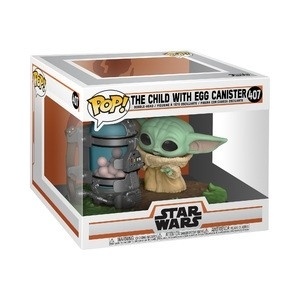 Funko, Inc. has announced
The Child with Egg Canister
, a
Pop! Deluxe Star Wars
figure set, for release in February 2021.
The Child is constantly hungry, and the endless hunt for amphibian-like species continues on every planet he stops on. One of the running gags in The Mandalorian S2 is The Child's attempts to sneak into a canister of space frog eggs and steal one for a gross but tasty treat. Now, Funko has captured that gag in a Pop! Deluxe figure set that comes with both a curious The Child and the canister of frog eggs from which he is trying to pilfer.
Funko, Inc. also announced new Pop! Star Wars figures for release at the end of Q4 through Q1 2021 (see "Funko Will Release More 'Pop! Star Wars' Figures Featuring 'The Mandalorian's' 'The Child'").
Click on Gallery below for full-size images!