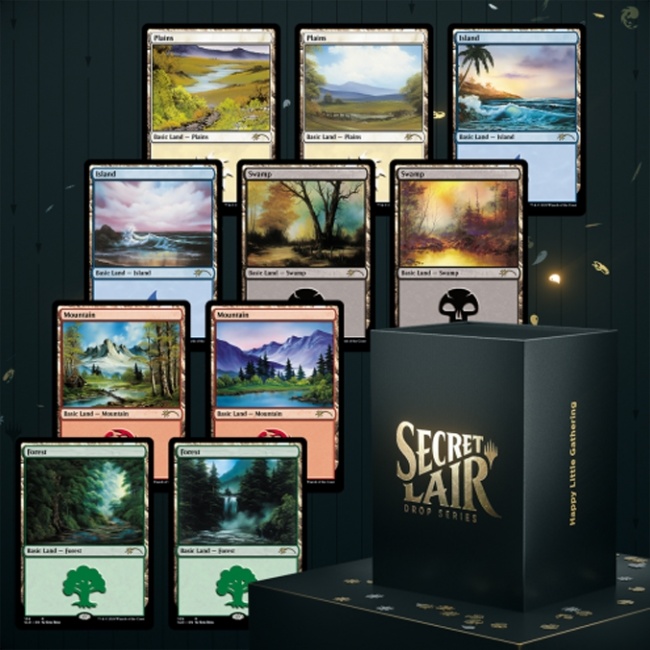 Wizards of the Coast announced that one the set in the
Magic: The Gathering Secret Lair: Secretversary
Superdrop will contain basic lands with art from the legendary Bob Ross.
Bob Ross, host of PBS's The Joy of Painting, and his art work have seen a reemergence in pop culture over the last several years (see "'Deadpool 2' Teaser 'Wet on Wet'" and also, "Funko Moves into the Games Business"). WotC has now officially jumped on the bandwagon by announcing that one of the coming Secret Lair: Secretversary Superdrop sets (see "Wizards of the Coast Announces a 'Magic: The Gathering' 'Secretversary' Superdrop") will feature Bob Ross's work on basic land cards. This set, entitled Happy Little Gathering, will contain 10 basic lands with Bob Ross landscape pieces on them, and will be available in foil and non-foil versions.
They also released information on the other three sets in the Superdrop. There will be a heavy metal inspired set called Party Hard, Shred Harder that contains Anguished Unmaking, Assassin's Trophy, Decimate, Dreadbore, and Thraximundar in heavy metal-style variants. For squirrel lovers, there is a set called We Hope You Like Squirrels that contains an Alt-Art Chatter of the Squirrel, an Alt-Art Krosan Beast, an Alt-Art Squirrel Mob, an Alt-Art Squirrel Wrangler, an Alt-Art Swarmyard, and a Squirrel Token. Finally, they will release set called A Box of Rocks with an Alt-Art Arcane Signet, an Alt-Art Chromatic Lantern, an Alt-Art Commander's Sphere, an Alt-Art Darksteel Ingot, and an Alt-Art Gilded Lotus.
Each of these sets are available in foil editions for $39.99 or non-foil editions for $29.99, except for Party Hard, Shred Harder which is only available in non-foil. WotC will also offer three bundles: $99.99 for the non-foil sets, $139.99 for the foil sets, and $229.99 for all the sets.
Click on Gallery below for full-size images.