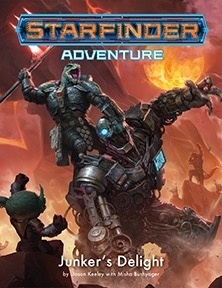 Paizo, Inc. revealed
Junker's Delight
, the first stand-alone adventure for
Starfinder RPG
, for release on August 5, 2021.
This first stand-alone adventure for the Starfinder RPG allows players to salvage the Stellar Flare, a lost science vessel. Vari-13 is an android that has a claim to the wreck, but it needs the help of heroes to clear the path through a junk field with roaming predators and space goblins. Junker's Delight is an adventure for 1st-level characters by Jason Keeley and Misha Bushyager that has new alien creatures, new spells and equipment, and background on the Khefak Depot.
It will retail for $22.99.
Paizo, Inc. also unveiled Starfinder Galaxy Exploration Manual, a new rulebook for Starfinder RPG, for release in Q2 2021 (see "Paizo, Inc. Unveils 'Starfinder Galaxy Exploration Manual'").