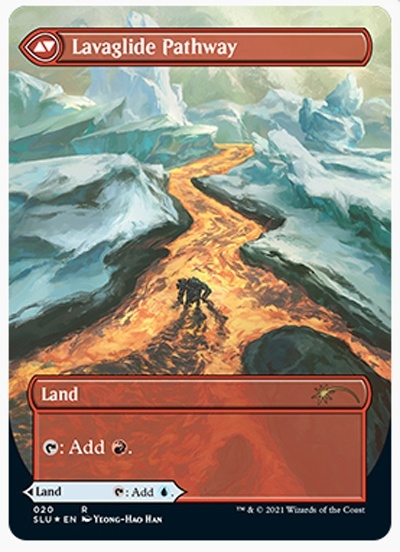 Wizards of the Coast unveiled official details for
Secret Lair: Ultimate Edition 2
, a new retail set that is a part of the
Secret Lair Drop Series
, for release in Spring 2021.
In a Twitch stream last week, WotC representatives discussed some of the new releases for the Secret Lair Drop Series coming in 2021 (see "Wizards of the Coast Teases 'Secret Lair' Drops for 2021/2022"). Since then, they've added new details about the product. Secret Lair: Ultimate Edition 2 will feature 10 foil full-art Pathway lands (lands included in the Zendikar Rising and Kaldheim sets). These lands will have new "plane-swapped" artwork. This means that if the lands were originally printed in Zendikar Rising, they will have Kaldheim art in Ultimate Edition 2 and vice-versa. Thus far, WotC has only revealed images the six double-sided land released in Zendikar Rising; the Kaldheim land images will come at a later date.
Retailer allocations will be available by December 18, and stores can double their allocation by becoming a WPN Premium store by that deadline.
For more information on Magic: The Gathering releases, check out our Magic: The Gathering Release Calendar (see "'Magic: The Gathering' Release Calendar for 2020/2021").
Click on Gallery below for full-size images!