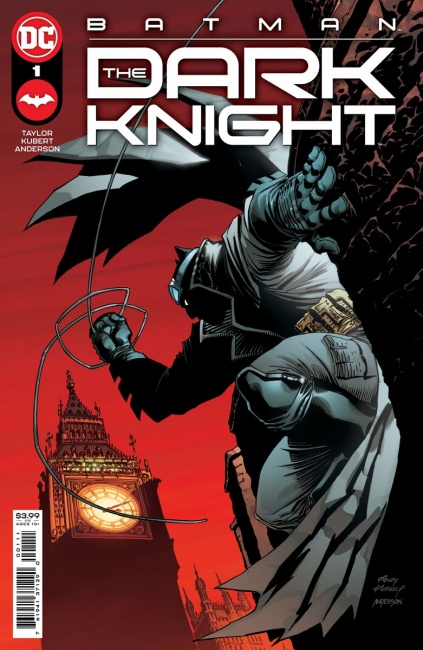 DC Comics revealed
Batman: The Dark Knight #1
, part one of a new six-issue miniseries, coming on April 13.
Batman: The Dark Knight will offer a new take on a veteran Bruce Wayne, who's body has taken the toll of a lifetime of fighting crime. In this series, he heads out from Wayne Manor to Europe on a mission. This comic is written by Tom Taylor (DCeased, Suicide Squad) with Andy Kubert (Batman: The Dark Knight-The Master Race, Superman: Up in the Sky) and Brad Anderson on interior art. Kubert had the following to say about the new book:

"This series is a different take on the character than I had done before," said Kubert. "Every story that I have done with Batman has been different in tone, and the art takes on a life of its own as the story dictates. Batman and Son, Whatever Happened to the Caped Crusader and Dark Knight III-The Master Race along with Flashpoint Batman, had their own look and feel for that particular story. Batman: The Dark Knight is no different."
The main cover and a card stock variant cover for this extra-sized book were rendered by Andy Kubert and Brad Anderson. There will also be a 1:25 card stock variant cover by Riccardo Federici, and this book will retail for $3.99.
DC Comics also dropped a preview of Man-Bat #1 (see "Preview: 'Man-Bat' #1")
Click on Gallery below for full-size images!