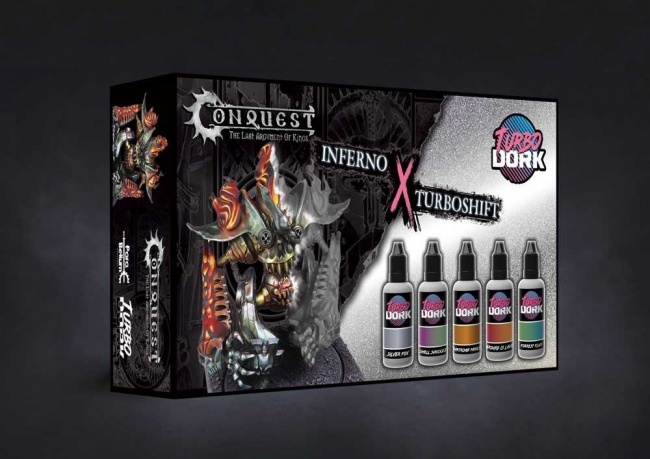 Para Bellum Wargames announced that they will collaborate with Turbo Dork to produce the
Inferno X Turboshift
model paint kit for
Conquest: The Last Argument of Kings
.
Para Bellum and Turbo Dork have teamed up for a special release paint kit featuring an Inferno Automata plastic model along with five select paints. The Inferno Automata is a raging furnace that contains the burning remains of a primordial beast with a demonic spirit is bound to its metal frame. The Turbo Dork line of paints are ideal to use with this piece as their Silver Fox, Shell Shocked, Cartridge Family, Ground Is Lava, and Forrest Flux complement the Automata's detailed sculpt.
This new model paint kit will retail for $49.00, and will release into retail in February 2021.
Para Bellum Wargames also announced four Conquest: First Blood Faction Taster Sets , miniatures skirmish battle starter sets, for release on January 25 (see "Para Bellum Announces Four 'Conquest: First Blood' Faction Taster Sets").
Click on Gallery below full-size images!