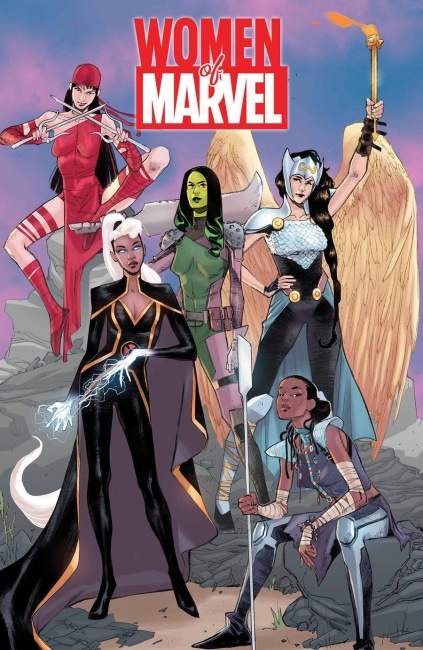 Marvel Comics announced
Women of Marvel
#1 for release into retail stores in April.
Women of Marvel #1 shines the spotlight on characters like She-Hulk, Peggy Carter, Rogue, and Mystique in a collection of stories by top creators. The book begins with an introduction by Eisner-award hall-of-famer Louise Simonson (see "Eisner Awards 2020: Wide Range of Winners"), and continues with stories by Nadia Shammas, Elsa Sjunneson, Sophie Campbell, Anne Toole, and Natasha Alterici. Art for this book is provided by Kei Zama, Eleonora Carlini, Skylar Patridge, Joanna Estep, and more. Editor Sarah Brunstad commented on the book:
"I've always loved the Women of Marvel program for the way it opened the door - it said to women everywhere, this fandom is for you. There have always been powerful women in comics - and behind them, writing and drawing and editing and reading them - but spotlighting those characters, creators and fans felt like someone reaching out their hand. So it's with great gratitude that I curated this special one-shot. The women in this special are powerhouse creators from all over the place; it's truly a celebration of Marvel Comics and a love letter to the women who paved the way," said Sarah Brunstad.
Cover art for this special issue was rendered by Sara Pichelli who also recently worked on Carnage: Black, White, and Blood #1 (see "'Carnage: Black, White, and Blood' #1 Will Feature a Variant Cover by Peach Momoko").
Click on Gallery below for full-size images!