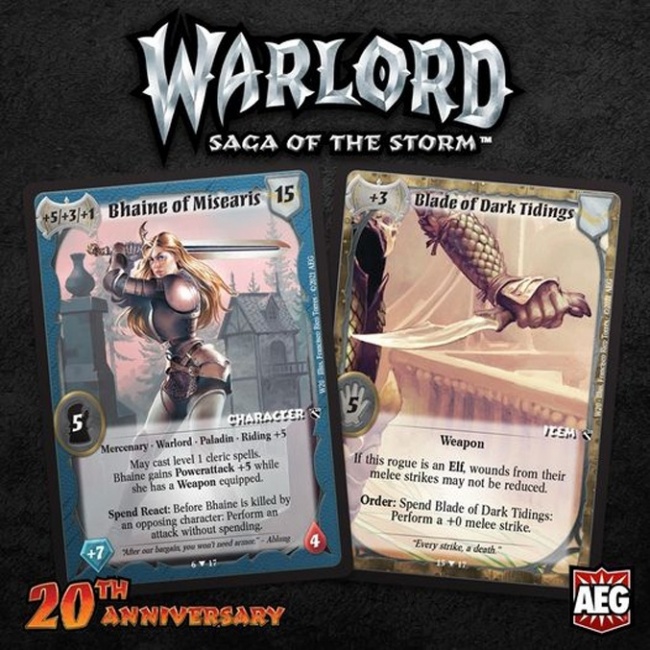 Alderac Entertainment Group announced
Warlord CCG 20th Anniversary Celebration Pack
, a direct sale pack, for release this summer.
Over a decade after production of Warlord CCG ended at AEG (see "'Warlord CCG' Ending"), John Zinser, CEO of AEG, and his team are putting out an Anniversary Pack to mark 20 years since the game's launch. This pack will turn back the clock to the time when the legendary Medusan Lords were Warlords themselves. Zinser reminisced about the launch of Warlord CCG in a recent post on his blog:
"Warlord was pitched to me when the d20 craze was in full swing. I loved the game, but the cherry on top of the pitch was (that) they wanted to use my game world as the setting for Warlord. We launched Warlord using the tag line 'The game you already know how to play', and if you had ever played a d20 roleplaying game, you did indeed know how to play. We gave away 400,000 decks, inserting them into all of the major magazines, distributor catalogs, and handing them out at shows. Yes, you read that right, 400,000. That's almost half a million. It was a huge gamble, but it paid off and Warlord: Saga of the Storm was the greatest launch of a new game in AEG's history."
This limited release pack features new Warlords, a new Overlord, new items, and an alternate art Brine Fiend. It will contain 19 cards in total and carry a MSRP of $19.99. The pack can only be purchased on preorder from the AEG Online Store between February 1 to February 5.
Click on Gallery below for full-size images!