Ablaze will publish a new chapter in the adventures of Leiji Matsumoto's character Captain Harlock, but this new storyline has been created, with Matsumoto's approval, by French artist Jérôme Alquié.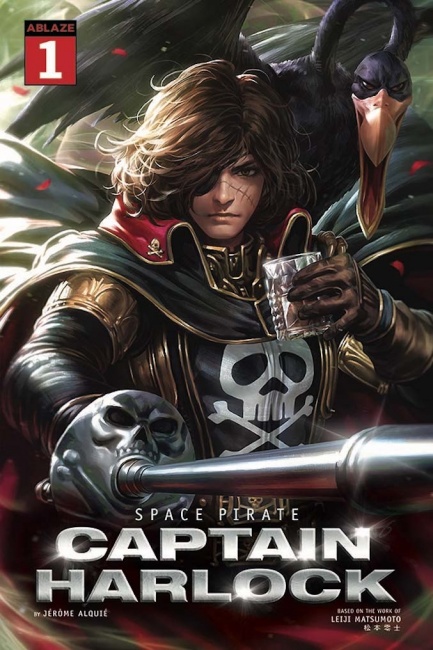 Space Pirate Captain Harlock,
which will be solicited in the April 2021
Previews
catalog and will launch in June, is a new story arc set in the same timeline as the original series. Captain Harlock, who has been banished as a pirate, must save the earth from a destructive power that comes from within. The story will be published as full-color, 32-page comics. The first issue will have a main cover by Derrick Chew and additional covers by Kendrick Lim, Leirix Li, Yanick Paquette, Miguel Mercado, Andie Tong, and Jérôme Alquié.
Captain Harlock first appeared in Matsumoto's manga, also titled
Space Pirate Captain Harlock,
which was published in 1977. An anime adaptation followed in 1978, and since then the character has starred in several other films and television series. Seven Seas Entertainment publishes Matsumoto's original series in English (see "
Harlock, Dragons, Kaiju, and Intergalactic War
"), as well as his more recent retelling of the same story,
Captain Harlock: Dimensional Voyage.
Matsumoto not only approved of Alquié's story about his character but praised his art and his faithfulness to the details of the original. "The universe of the series is perfectly reproduced," he said, adding "A day will come when young people will forge their own world. And if I can serve as a launching pad for the fulfillment of their dreams, then I am honored. Thank you very much."
Click Gallery for full-size covers!
Click here
to see the "Exclusive Preview: 'Space Pirate Captain Harlock' #1."
Click here
for more great Manga Week content.