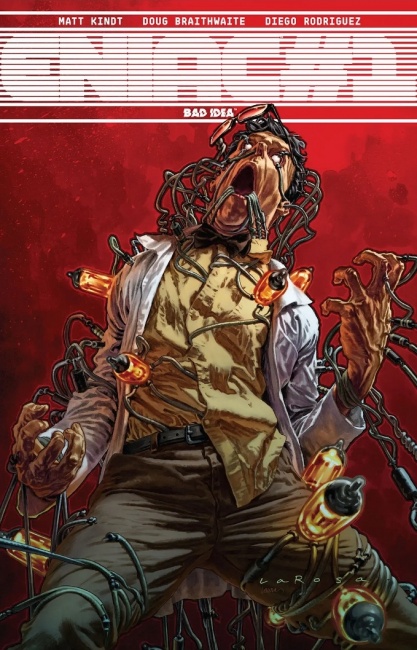 After selling online for $125 to $200 a copy in the first days after release in around 250 comic stores last Wednesday (see "
Bad idea at Nearly 250 Doors for Launch
"), March 3, first printing copies of
Eniac
#1, Bad Idea's first release, were selling in a narrower range of $145 to $180 by late in the weekend, according to analysis of eBay completed auctions. We talked to retailers and to Bad Idea co-CEOs Dinesh Shamdasani and Warren Simons to find out what happened.
Bad Idea, which distributed direct-to-retailers instead of through Diamond Comic Distributors or Lunar Distribution, shipped retailers 51% of orders placed to Bad Idea by their order deadline in first printings, co-CEO Shamdasani told ICv2, and the remainder in what it's calling "not first printings." The reason has to do with decisions Bad Idea made about how it handled order solicitation and production, the result of which was violating the First Rule of the Comic Direct Market: print to order. The company set its print run for the first printing before it had received orders from stores.
Two decisions caused Bad idea to need an unusually long time to produce and distribute the book, Shamdasani explained. First, it used a 12 pt. matte cardstock cover rather than normal periodical cover stock, then laminated both sides and added spot gloss. "I've edited or been an editor on probably about a thousand books at this point, over about 20 years, and this cover stands toe-to-toe with anything I've done," Simons said of the result. The elaborate cover treatments greatly extended production time. Second, distribution turnaround was slower using Bad Idea's third-party fulfillment instead of a comic distributor.
Bad Idea still wanted to set the order deadline for retailers as close as possible to release so retailers would know how many they were ordering on other books for the release week. Bad idea executives believed that if they solicited on a cycle that allowed them to collate orders before setting the print run, they "…wouldn't get very many orders at all," Shamdasani said.
The problem was that Bad Idea's estimates of how many orders they were going to get were wildly off. "This happened because we guessed wrong," as Shamdasani put it. The company was already printing the components for "not first printing" copies, which have a black logo instead of white and do not have the special cover treatments, so bound and sent those copies to retailers to complete their orders, effectively shipping the two covers as 51/49 variants. Despite the short shipments of first printing copies, "ninety-nine percent" of retailers were able to fill preorders from consumers with first printing copies, Bad Idea believes.
The shortage of first printings has brought speculators out of the woodwork, and given the returns they're seeing, there are likely to be more. In addition to the eye-popping prices of first printings, "not first printings" were selling for $14.99 to $24.99 over the weekend. Shamdasani plans to continue to print "not first printings," including a new print run ordered last Friday, he told ICv2. "We have no plans to shut it down at the moment; I'm sure at some point we will," he said.
Retailers that are buying
Eniac
#1 have agreed not to sell the book above cover price for the first 30 days, so the quick profits on the book are not being made by the stores in Bad Idea's network, at least most of the time. One retailer has been expelled from the Bad idea network for violating the policy, the company said. The company said it has been following up the leads it's been getting and has found no other cases of retailers violating its policy.
With their long experience at Valiant Entertainment, Shamdasani, Simons, and Publisher Hunter Gorinson (who along with head of marketing Josh Johns built the destination store program and the leads site) obviously know how demand builds when supply is short. We asked whether the under-print was intentional. Both Shamdasani and Simons denied that was the case. "Books that chase the first issue bump from speculation are dead by issue three," Shamdasani said.
"We want to minimize the chances of allocations," Simons said.
Eniac
#1 may not be the last book on which Bad idea has to allocate first printings. It plans to do the special cover treatments for the rest of its launch titles (see "
Bad Idea Reschedules Launch
"), so will be setting print runs for all of them before it has orders from retailers. The company has already set the print run for
Tankers
#1, but the order deadline has not yet hit. The print run was "very, very high," Shamdasani said.
Bad Idea has totally committed to the periodical format and its collectability, eschewing book format collections and digital release. Time will tell whether the company's decision that led to allocations on its launch issue, and potentially on other issues, was a bad idea, or a good one.
We talked to Bad Idea execs about the company's launch strategy earlier this year (see "
ICv2 Interview: Bad Idea Executive Team
").