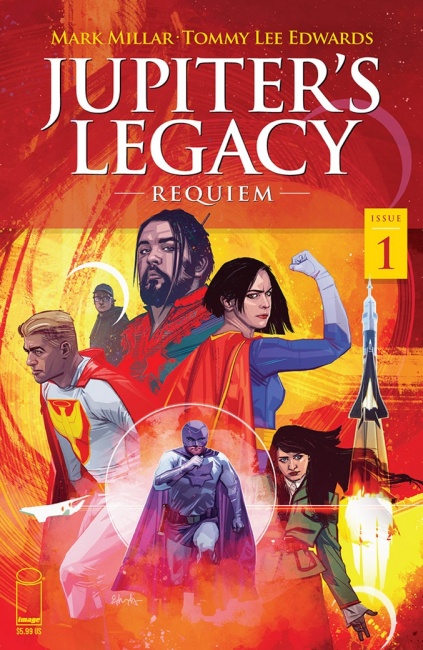 Image Comics announced
Jupiter's Legacy: Requiem
#1, a sequel comic miniseries to the upcoming Netflix TV series
Jupiter's Legacy
, which will release on June 16.
Netflix greenlit several Millarworld projects back in 2018 (see "Netflix Greenlights Millarworld Projects"), including a TV series adaptation of Jupiter's Legacy that will begin streaming on May 7, 2021. Image Comics will release the first issue of the follow-up miniseries a little over a month after the TV series starts streaming. The12-issue series was written by Mark Millar with art by Tommy Lee Edwards.
In Jupiter's Legacy: Requiem, Chloe and Hutch are now married and had more children. The superheroes are helping humanity to build a better world, but the Sampson family becomes torn apart. The Netflix show's mysterious island boasts secrets that will begin to get revealed in this series.
The first book will feature three covers and retail for $5.99.
Click on Gallery below for full-size images!