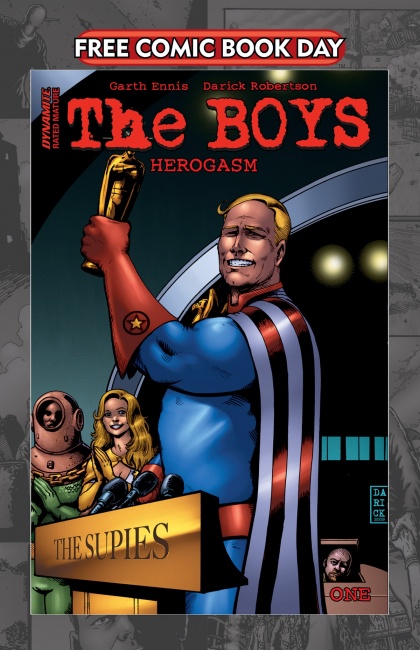 The 20th Annual Free Comic Book Day (FCBD) is on August 14, 2021, and Diamond Comic Distributors just released the 39 Silver Sponsor titles for this event. The Gold Sponsor comic book titles were released earlier this week (see "
FCBD 2021 Gold Sponsor Comics Announced
").
The Silver Sponsor titles include the following:
10 Tons of Fun (10 Tons Press)
Space Pirate Captain Harlock (Ablaze)
Trese: Unreported Murders (Ablaze)
World of Zorro #1 (American Mythology Productions)
The Resistance: Uprising #1 (Artists, Writers & Artisans)
Black/Calexit (Black Mask Studios)
Just Beyond (BOOM! Studios)
Avatar: The Last Airbender/ The Legend of Korra (Dark Horse Comics)
Trailer Park Boys (Devil's Due Comics)
The Boys: Herogasm #1 (Dynamite Entertainment)
Vampirella #1 (Dynamite Entertainment)
Red Room (Fantagraphics Books)
The Overstreet Guide to Collecting Comics (Gemstone Publishing)
Allergic (Graphix)
The Adventures of the Bailey School Kids #1: Vampires Don't Wear Polka Dots (Graphix)
Sonic the Hedgehog 30th anniversary (IDW Publishing)
Stray Dogs (Image Comics)
Rent-A-(Really Shy!)-Girlfriend Exclusive Preview (Kodansha Comics)
Bountiful Garden #1 (Mad Cave Studios)
Avengers/ Spider-Man #1 (Marvel Comics)
Dungeon is Back! (NBM Publishing)
Oni Press Summer Celebration (Oni Lion Forge Publishing)
The School for Extraterrestrial Girls (Papercutz)
The Smurfs Tales (Papercutz)
All Star Judge Dredd (Rebellion)
White Ash (Scout Comics)
Fungirl: Tales of a Grown Up Nothing (Silver Sprocket)
Gloomhaven: A Hole in the Wall (Source Point Press)
On Tyranny Graphic Edition (Ten Speed Press)
Life is Strange (Titan Comics)
Street Fighter: Back to School Special #1 (UDON Entertainment)
Valiant Uprising (Valiant Entertainment)
The Unfinished Corner (Vault Comics)
Vampire: The Masquerade (Vault Comics)
The Last Kids on Earth: Thrilling Tales from the Treehouse (Vilking Young Readers
Star Wars: The High Republic – Edge of Balance/ Star Wars: Guardians of the Whills (VIZ Media)
Kyle's Little Sister (Yen Press)
Solo Leveling (Yen Press)
Check out last year's Silver Sponsor titles (see "FCBD Silver Sponsor Titles Announced").
Click on Gallery below for full-size images!