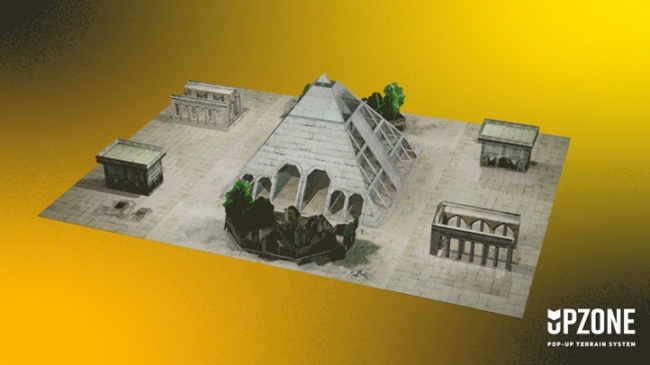 Everything Epic will be offering the
Upzone Pop-Up Terrain System
into distribution this spring, with three sets now on pre-order.
The Upzone Pop-Up Terrain System takes the classic "pop up" book and converts it into functional three-dimensional terrain for tabletop games, including miniatures games and role playing games. The terrain boards are designed so that they fold flat for easy storage. Then, when the board is opened it becomes a pre-made battlefield, with buildings, ruins, or dungeon walls.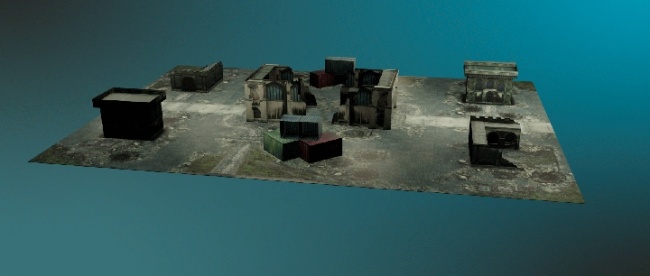 No assembly is required, and each set comes ready-for-use. The terrain elements are sturdy enough to support miniatures, with some buildings featuring multiple levels and floors. The terrain is overlaid with a one-inch square grid, popular with many wargames and role playing games. Movable terrain tiles allow players to customize their battlefield, and all sets are compatible so these tiles can be mixed and matched between multiple sets.
At this time, three sets will be available:
The Cathedral Zone includes eight pop up boards that combine to form a 60 by 44 inch battlefield, including two cathedral ruins, two mausoleums, two ruined cloisters, and two shipping container boards.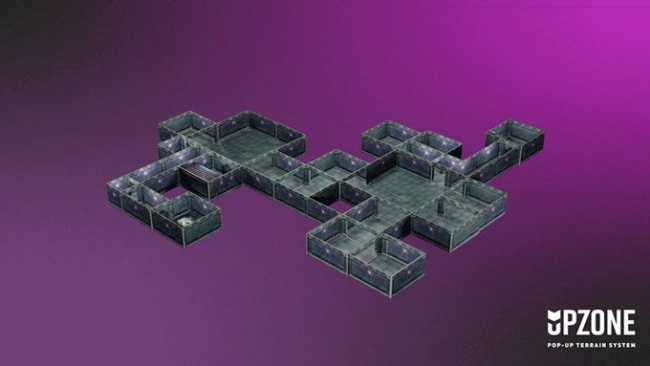 The
Dungeon Zone
comes with a total of 25 modular terrain boards representing dungeon rooms and corridors, including rooms with internal pop up terrain such as stairs, a prison cell, and a sarcophagus.
The Ancient Zone has eight pop up boards that cover a total of 60 by 44 inches, featuring a multi-layer pyramid that stands 14 inches tall, two mausoleums, two colonnades, and two graveyards.

The three sets will be sold separately with an MSRP of $104.99 each.
Everything Epic funded the production of Upzone through a Kickstarter campaign last November that attracted 3,572 backers to pledge $580,422 in support (an average of $162.49 per backer).
Click here for more Miniatures Week coverage.