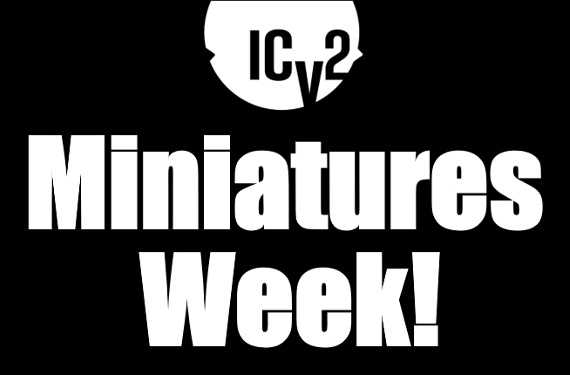 An ICv2 Release
. ICv2 is pleased to announced the launch of its first Miniatures Week event, sponsored by Para Bellum, the makers of
Conquest
, and Steamforged Games. During Miniatures Week, ICv2 will feature special content about miniatures and miniatures games, including tips, news, markets, and interviews.
"Our analysis showed that sales of miniatures and miniatures games were up 17% in North America in 2020, as the pandemic sent people to their hobbies at home, including collecting and painting miniatures," ICv2 Publisher Milton Griepp said in a statement accompanying the announcement. "There's a great opportunity to expand the hobby further as people begin to get out of their houses and into stores, where they can compare paint jobs with their friends and battle the armies they've been working so hard to develop. We felt it was important to devote some extra editorial coverage to this rapidly expanding part of the hobby games business during this special focus week. We want to thank our sponsors Para Bellum and Steamforged Games for their support."
Here's the full linked list of Miniatures Week articles:
Rolling for Initiative -- A Matter of Miniatures
New Vehicles Roam the Battlefields in 'Star Wars Legion'
WizKids Announces a $399.99 'Dungeons & Dragons' Tiamat Miniature!
'Warhammer Age of Sigmar' Expands 'Broken Realms' Storyline
Board Games Retailers Can Use as a Customer On-Ramp to Miniatures
Visit the 'Cursed City' in New 'Warhammer Quest'
Terrain Options for Miniatures and TTRPG Customers
House Greyjoy Battles for Control in 'A Song Of Ice And Fire' Tabletop Miniatures Game
'Upzone' Pop Up Terrain Comes to Trade
High-End Miniatures Products Proliferate
Corvus Belli Teases 'Infinity Deathmatch: TAG Raid'
Paizo Unveils 'Pathfinder Bestiary 3 Pawn Collection'
Wyrd Miniatures Announces 'Explorer's Society Starter Box'
Sorting Out Paint Lines and Supplies
Miniatures Week Sponsored Content:
There's Never Been a Better Time to Become a 'Conquest' Retailer! (Para Bellum Wargames)
'Conquest' Presents an Online Miniature Painting Event! (Para Bellum Wargames)

Watch ICv2 every day during Miniatures Week for more on what's happening in this rapidly growing hobby games category.