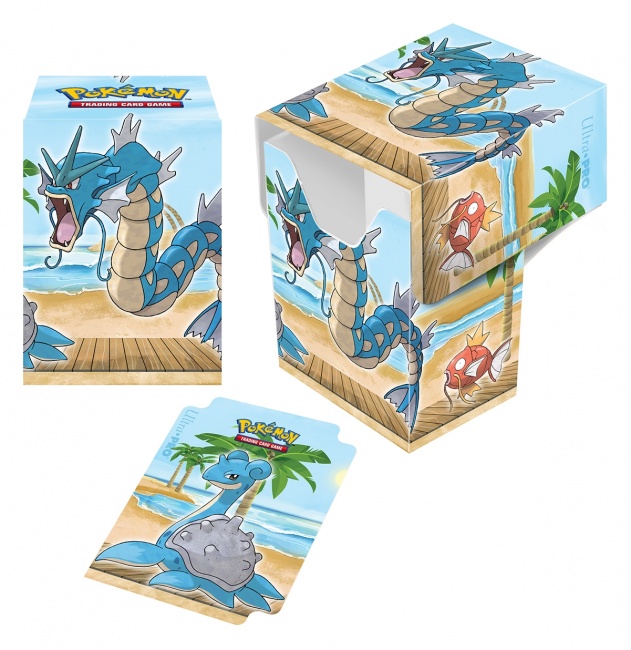 Ultra PRO announced
Pokemon TCG: Seaside
accessory series for release in summer 2021.
Catch a wave and head to the beach with this new summer-themed series of Pokemon accessories. The following accessories are scheduled for release:
Seaside Alcove Flip Box for Pokemon. This flip box holds up to 100 cards and comes with a magnetic closure. This leatherette box has an MSRP of $24.99.
Seaside Chromafusion Deck Protector Sleeves for Pokemon. Each pack comes with in 65 sleeves, and the Chromafusion technology prevents them from peeling. These will retail for $7.49.
Seaside Deck Box for Pokemon. Each of the deck boxes holds up to 82 standard-sized sleeved cards, comes with a divider, and will retail for $2.99.
Seaside Playmat for Pokemon. This fabric-topped playmat is 24" by 13.5", and has a rubber backing. It will retail for $20.99.
Seaside 4-Pocket Portfolio for Pokemon. The 4-Pocket portfolio holds up to 40 single-loaded cards, and will have a MSRP of $7.99.
Seaside 9-Pocket Portfolio for Pokemon. The 9-Pocket portfolio can hold up to 90 single-loaded cards and retails for $10.49.
Seaside 9-Pocket PRO Binder for Pokemon. This archival-safe binder can hold up to 360 cards, has side-loading pages, and an elastic strap closure. This product has an MSRP of $24.99.
Seaside 2" Album for Pokemon. It is three-ring binder designed to hold punched storage pages, has 2-inch thick D-rings, and has a MSRP of $14.49.
The Pokemon Company International unveiled Sword & Shield-Chilling Reign, the next expansion for the Pokemon Trading Card Game, which will hit retail on June 18 (see "More Battle Styles Cards are Coming in the Next 'Pokemon TCG' Expansion").
Click on Gallery below for full-size images!