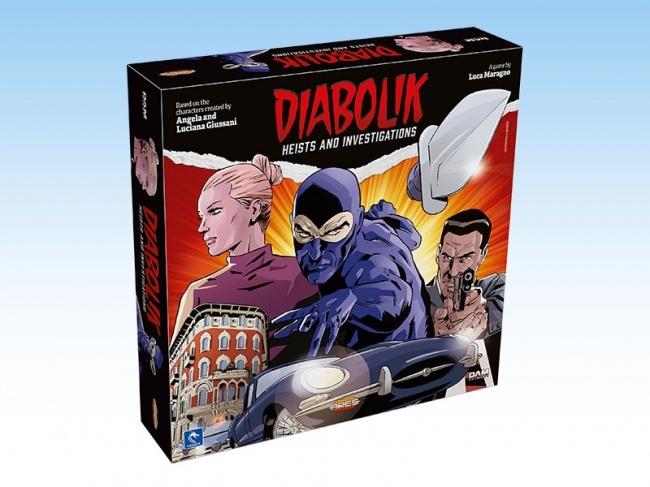 Ares Games will release
Diabolik: Heists and Investigations
, board game by Pendragon Game Studio, into U.S. retail in August.
Diabolik: Heists and Investigations is a hidden movement and deduction game by Luca Maragno, inspired by an Italian comic series of the same name. The basic premise is a game of cops and robbers where two teams of players match wits against each other. One team plays Diabolik and Eva (the Criminals) against the other team Ginko and Morrigan (the Detectives). The Criminals and the Detectives try to complete or foil heists depending on their goals.
The game box comes with a map board, a screen, 4 character sheets, 15 Character and Vehicle tokens, 5 Secondary Characters tokens, 7 Heist and Investigation sheets, 48 Police cards and 48 Crime cards, 40 Location cards, 18 Wound cards, 67 Investigation tokens, 20 Plan tokens, a Danger token, a Combat die, a rulebook, and a rulesheet for "Escape from Clerville". It supports two to four players, ages 13 and up, and plays in 90 minutes. Diabolik: Heists and Investigations will retail for $49.90.
Ares Games recently inked an agreement with Italian game publisher Ergo Ludo Editions to publish and distribute Ergo Ludo's English versions of their games (see "Ares Games Inks an Agreement with Ergo Ludo Editions").