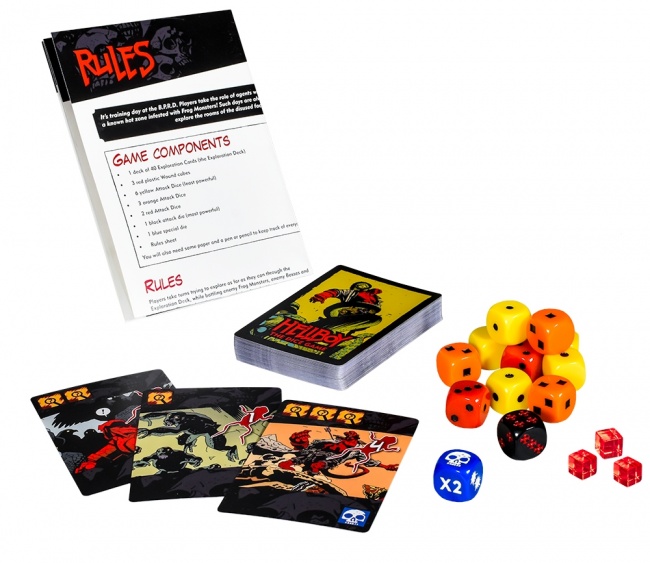 Mantic Games announced that they will offer a retailer pledge level for their latest
Hellboy: The Board Game
Kickstarter.
Mantic's latest Hellboy: The Board Game KS offers up four new expansions for the Hellboy: The Board Game (see "Asmodee Acquires Exclusive U.S Rights to Mantic's 'Hellboy: The Board Game'") and the brand-new Hellboy: The Dice Game. The four expansions each add new miniatures and associated board game components to the mix. The Storm and The Fury Expansion comes with Nimue, Nimue in Dragon Form, and Hellboy Last King of Britain miniatures while the End of Days Expansion showcases B.P.R.D. agents Abe Sapien Evolved, Elizabeth Sherman, Sledgehammer, and Ted Howards as miniatures. The Pandemonium Expansion features Lord Balam, Hammerhead, The Black Flame, and Varvara; Hell on Earth Expansion comes with Mutants, Crickets, and Demons.
Hellboy: The Dice Game is a simple press-your-luck game driven by cards. Players flip room cards and have to battle whatever is hiding in the room by rolling dice. The game box comes with a deck of room cards, dice, and a rulesheet.
The retailer pledge requires a $139 deposit, and will allow them to apply Mantic's normal retailer discounts to all the available order options through the campaign. As of the publication of this article, the Hellboy: The Board Game KS is fully-funded at $145,348 of a $69,405 goal with 1426 backers ($102 a backer). Delivery for this product is estimated for June 2022.
Click on Gallery below for full-size images!