For kids who want to read about Marvel characters, or adults who want to get kids started on a Marvel odyssey, the current situation is a bit confusing. Three publishers are putting out Marvel comics and graphic novels for middle-grade readers: Scholastic, IDW Publishing and Marvel Comics itself.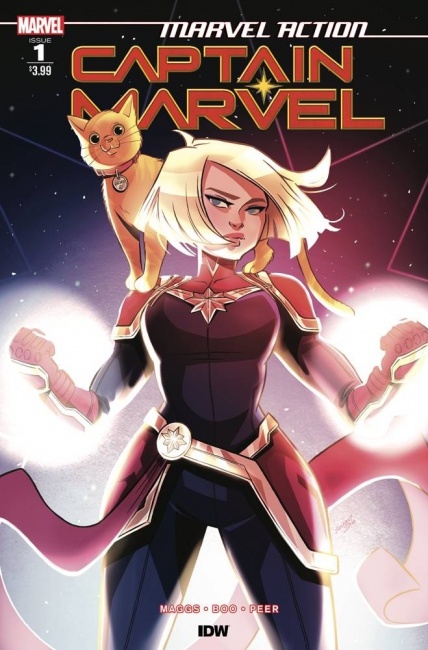 IDW publishes Marvel Action series featuring Captain Marvel (Carol Danvers), Spider-Man (Peter Parker), and others.
The Marvel Action Origins
comics each contain two origin stories, one of a hero and one of a villain. Each series is published as single-issue comics that are then collected into trades. "I think our focus is more on the classic Marvel storytelling," IDW editor-in-chief John Barber told ICv2. "Not necessarily classic characters (we definitely like having new characters like Ironheart), but trying to feel a bit more like the classic Marvel flavor."
"We're in the process of relaunching
Marvel Action Avengers
with a new series focusing on Ironheart as she joins the Avengers," Barber said. "She's a brilliant young inventor, and we're getting to see the world of superheroes through her eyes as she experiences it for the first time."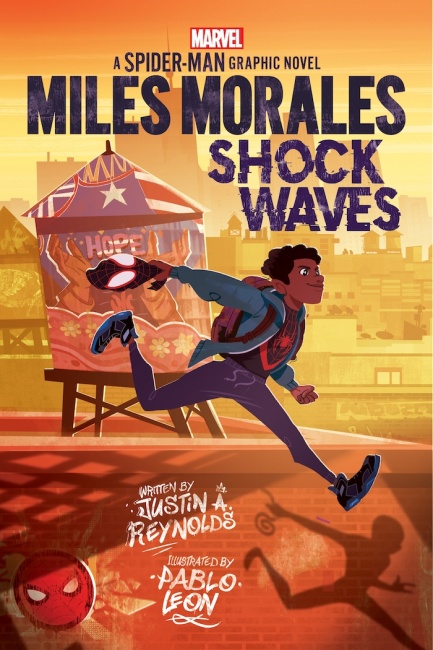 Last year, Marvel and Scholastic announced that Scholastic would publish original graphic novels featuring Marvel characters in its Graphix line (see "
Marvel Entertainment and Scholastic Announce OGN Program
"). The first of these is
Miles Morales: Shock Waves,
by writer Justin A. Reynolds and artist Pablo Leon, which will be released in June; the next three are
Ms. Marvel: Stretched Thin,
by Nadia Shammas and Nabi H. Ali, due out in September;
Spider-Ham: Great Power, No Responsibility,
by Steve Foxe and Shadia Amin, also a September title; and
Black Panther: Into the Heartlands,
written by Roseanne A. Brown.
"Creatively, we consider 'Marvel' and 'Scholastic' graphic novels all Marvel stories," Sven Larsen, Marvel Vice President, Licensed Publishing, told us. "That being said, Scholastic has the incredible ability to reach kids and expand our audience beyond our traditional channels. As a result, we can create stories that are designed to appeal to and specifically target a particular demographic (middle grade readers) in a way that would be challenging for our core publishing (which is aimed at a more general audience). The stories we publish through Scholastic can be longer and self-contained as OGNs, focusing on younger characters and the problems and experiences that resonate in their daily lives (school, friendships, relationships with parents, etc.). It creates different pacing, storytelling and an overall reading experience that is quite different from consumption of a monthly comic book."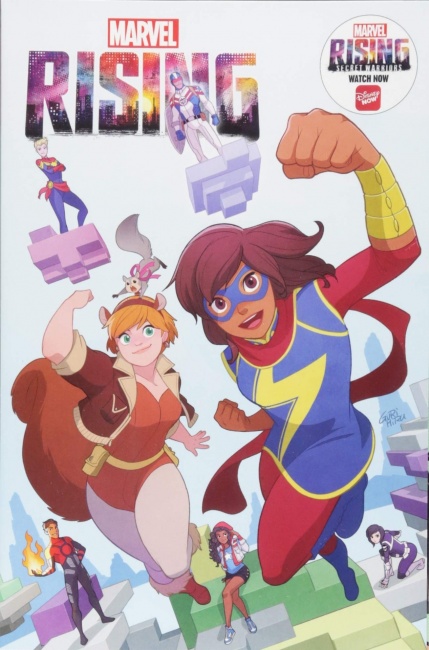 Marvel itself has a variety of middle-grade comics and graphic novels, including its Rising Readers line and the Marvel-Verse trade paperbacks, collections of previously published comics that center on a single character. In addition, Marvel publishes collected editions in a 6" x 9" trim size, rated for middle-grade readers. For example, 2019's
Ms. Marvel: Kamala Khan
collects
Ms. Marvel
#1-11; a second volume,
Ms. Marvel: Game Over,
will be released in August.
"Our aim for our Scholastic books in particular is to make sure that we have a story for every reader, creating easy doorways into the very expansive Marvel Universe," said Lauren Bisom, Editor, Juvenile Publishing, at Marvel. "While our Rising Readers collections introduce readers to the classic 616, our middle grade books with Scholastic are really geared towards teaching new-to-comics readers how to confidently read a sequential story. With that in mind, we've placed a big emphasis on accessible panel layouts and unique art styles that will really appeal to them! These books are "continuity adjacent" to our comics (in that we take some liberties with the relative ages of our characters), but they all stay true to their original DNA and who they are at their core."
"However," Bisom added, "Marvel being Marvel, we couldn't resist creating our own light Marvel-Scholastic continuity within our books. While each story stands on its own, readers will likely recognize some familiar faces and Easter Eggs across all of the books!"
Click here
for more articles on kids comics and graphic novels, for ICv2 Kids Week!